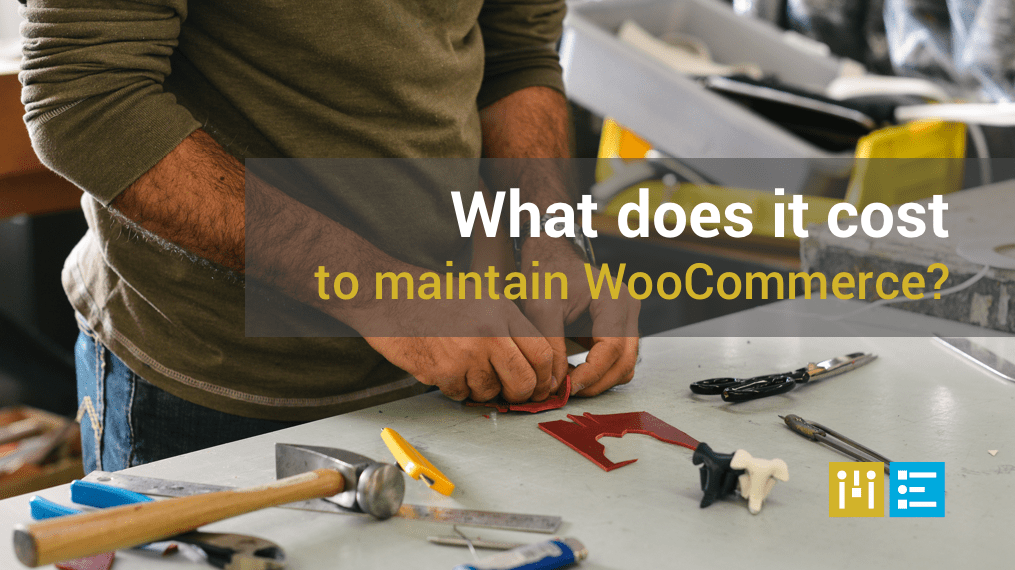 What does it cost to Maintain WooCommerce?
What Does it Cost to Maintain WooCommerce?
Since finding WordPress in 2007 we've never looked back to find another tool to help clients build and scale an incredible website.  So naturally once WooCommerce came along we were thrilled to find such a great platform for our clients to build successful eCommerce stores.  But while the platform has grown and been successful I've noticed clients become overwhelmed with the increased technical insight to properly keep their online store functioning to the highest level.
As you may or may not know WooCommerce has quickly become the industry leading go-to solution for online stores and the platform has grown exponentially in its effectiveness for store owners.  But keeping up with the upkeep of WooCommerce can be a bear for smaller companies lacking technical in-house partners.  We've seen our clients grow weary from the upkeep and items necessary to build a successful online store.
WordPress and WooCommerce
Maintaining WooCommerce Core
If you're a non-technical manager or store owner this is absolutely crucial to your business.  With each new release of WooCommerce core, it affords plenty of improvements for your online store and it's important to mind the details on how this can affect your customers and products.  Core releases have been released pretty frequently due to security and mission critical patches that need addressing.  But the key detail you'll want to note is how much WooCommerce continues to evolve as a platform.  Last year brought some heavy releases with new and refined features that allowed significant improvements for store owners.
So needless to say you don't want to just "cross your fingers" and hit the update button.  Your customers and inventory data are too important to risk a technical setback that can lead to a significant loss of revenue.  You need to have a proper WordPress host that will allow you to stage your live site and test the newest releases of WooCommerce to ensure there's no change in behavior or data compromises.  WP Engine is a perfect host to provide a free staging instance of your WooCommerce site.
While it's tough to say exactly how much time you'd use going through the paces of updating and testing a new WooCommerce core release, you likely want to plan for a couple of hours to make sure you can properly stage the most current version of your store.  Just make sure you're using a fast and reliable host to allow for timely update of your data.
---
WooCommerce backup
Backing Up WooCommerce Data
The data your website receives from customers is crucial.  If you've ever experienced a hack, loss of data, or any type of other breaches you can relate to the disruption it will cause to your business.  This is why in addition to maintaining your system, you have to have rock solid back-ups for your site and it's data.  If you work with a great managed WordPress host they likely provide daily back-ups for your data.  In most cases, this is the bare minimum.  You'll want to establish off-site backups for redundancy that will allow you to restore in the case of a website server compromise.
If you're looking for a WordPress plugin to use, we highly recommend VaultPressas a solid option or Backup Buddy from iThemes.  Lastly, if you want to go the free route, you can always try this backup plugin for off-site backups to Dropbox.
Seriously, don't even risk missing this step!
---
Extensions!  Maintaining Extensions for WooCommerce
WooCommerce requires great extensions
Skip this and get right to the goods! Free WooCommerce Maintenance Checklist
Click Here
It's unlikely your store runs without extensions.  These extensions are absolutely essential to the overall outcome of your store success.  Whether it's simply allowing customers to checkout or making it easier for them to opt into your e-mail newsletter, there are so many to consider.  In this post, we'll cover some essential extensions your store should be running.
Credit card purchasing – Free
Stripe, PayPal, Amazon, etc.  You'll need to be sure you have an account for either of the credit card services.  In most cases, it should be free to set up, but you'll be charged an industry standard 2.9% fee.
Shipping – $79+ (yearly)
E-mail marketing – (from $49 yearly)
Mailchimp, Constant Contact, etc
Cart-abandonment – (from $50 per month)
Recommendations:  CartHook, Amplify Plugins WooCommerce Quick Checkout, etc
SEO – (from $49 yearly)
Recommendations: Yoast, All in One SEO, etc
In most cases, you will run through the initial setup of each extension and forget it.  But these extensions see many improvements over time so this is a benefit of paying for an annual subscription for support and updates.  You'll also want to be sure you update and test new versions of this extension on your staging server and then apply to your live website.
Give yourself around a few hours with each release to be sure you're running through the paces to check compatibility and there are no conflicts with your version of WordPress or WooCommerce.
---
Security Recommendations
If you're running your WooCommerce site on a shared host (Godaddy, Bluehost, etc) you definitely need to add on security to avoid any hacks to your website.  Seriously, you need to do this.  As mentioned above in our backup section a malware attack can cripple your business cashflow easier than you think.  It's not worth taking the risk.  Not only is this crucial for your store's stability but also can have a negative impact on your search engine traffic.
Google will warn prospective customers before coming to your store if you've been hacked or even if your SSL certificate is not properly setup.  If you're running an eCommerce business, security is one of your top priorities.  Luckily, not unlike most extensions, this process can be fairly easy to setup in the beginning.  But you will need some technical skill to run through the initial process, and then maintain each plugin or extension you're using for ongoing security measures.  Our recommendations for malware scanning/cleaning are Sucuri and Sitelock.
Lastly, the biggest advantage to keeping your WooCommerce store updated (both core and extensions) is that you're running the most stable and secure versions.  This is going to make security that much easier for you in the long run since most security vulnerabilities are caught and fixed with each new version release.
---
WooCommerce Maintenance Recap
The most important asset for business owners is time.  You don't want to waste your time and run the risk of losing revenue for your store.  You have a good grasp on how to approach selling to your audience and bringing in the business you need to attract to be successful, so let's keep it that way!
Too often we see business owners waste value time chasing down technical issues with their WooCommerce store because they updated and forgot about their customization weren't backed up or properly scaled.  Don't let this happen to your business.
Wouldn't it be tremendous if we had a one-stop solution in place to get this process done in a timely fashion?  So you could focus on filling orders and running your business?  At Mode Effect, we know what it takes and has just released a WooCommerce starter service that includes all of the items your business needs to get launched.