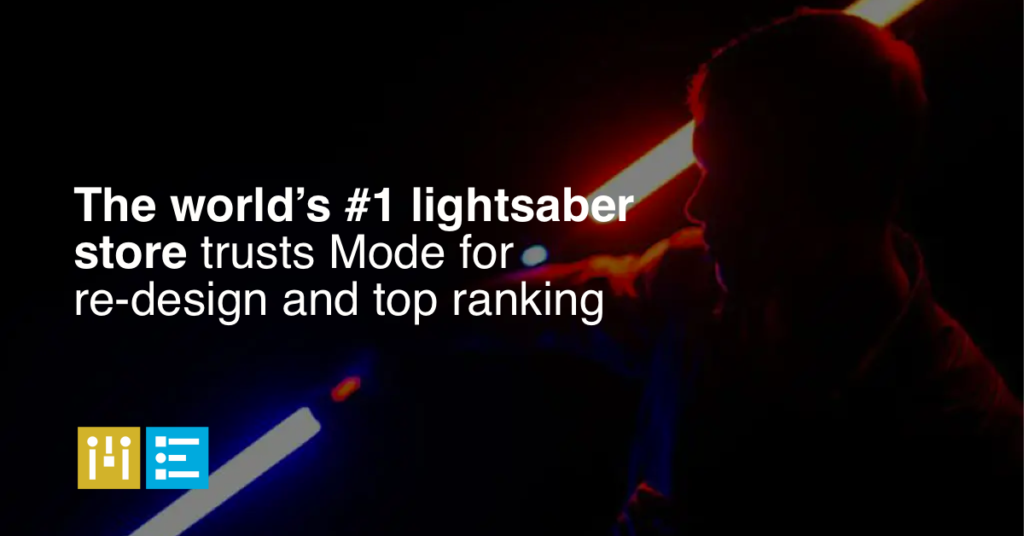 Ultra Sabers – Client Case Study
How the Market Leader for Customized Lightsabers Preserved Its #1 Google Ranking While Transforming Its Website into a Mobile-First, Lightning Fast Platform
UltraSabers is a top-ranked developer of lightsabers and holds the #1 spot on Google. Based in Friendswood, Texas, it is a privately held e-commerce company with a WooCommerce website. Lightsaber enthusiasts visit the site to browse a selection of highly innovative sabers with multiple features to purchase or construct their own. It is widely regarded as the worldwide leader in lightsaber design, features, and accessibility. UltraSabers employs up to 50 people at a time, most of whom work on product assembly.
The Challenge
UltraSabers needed a user-friendly website, particularly for mobile visitors who make up 65-75% of visitors. Mobile technology is slower than desktops' because it relies on slower processors and less reliable connections.
In addition, the site had become stagnant and could not integrate even minor changes without some kind of disruption, such as losing access to a social media site. It lagged behind competitors for speed and was not particularly easy for mobile visitors to navigate.
Even with these problems, UltraSabers had reached a #1 position on Google for the lightsaber industry. Any changes to the website risked losing this position. "We are the Titan in the industry, especially for our size" says John Trent, UltraSabers' marketing and website director. The goal was to maintain that ranking in a faster, more navigable site for its majority mobile customer base.
UltraSabers was committed to remaining with WooCommerce. Its competitors, however, tend to live on Shopify, which builds in more scalable speed but limits creative solutions.
John knew the UltraSabers site needed to be upgraded and more mobile-friendly to remain highly competitive. He wanted the best WooCommerce developers and searched for "WooCommerce experts." ModeEffect showed up in the #1 position.
The Solution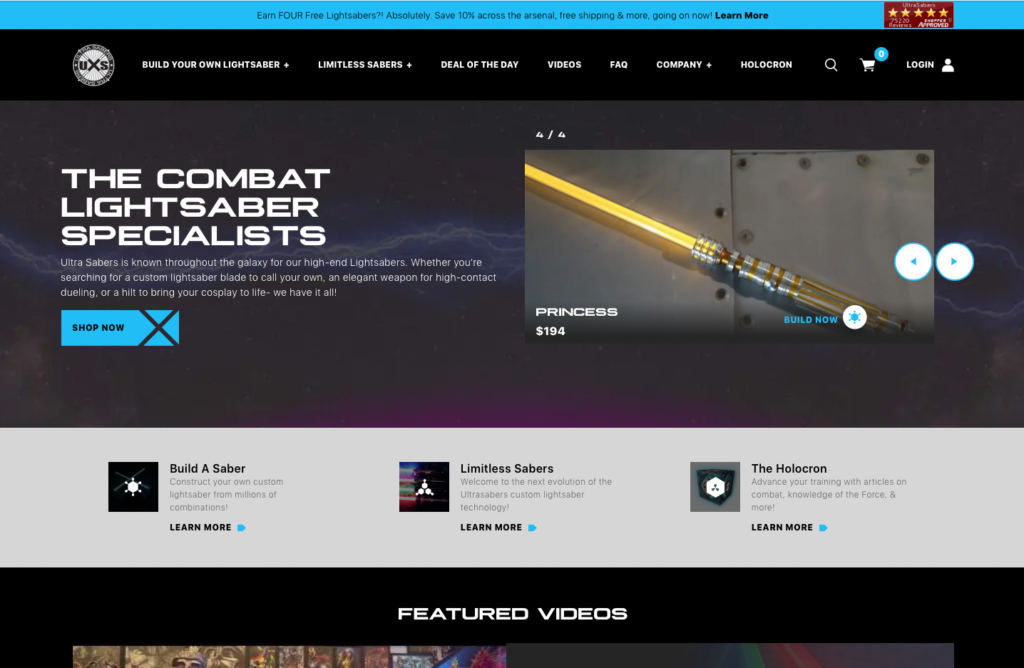 Mode Effect's front-end engineer Joseph McClellan and senior software engineer Kevin Brent concluded that high traffic and content-heavy images necessary to show different product options was a major drain on site speed. It was particularly slow downloading images and during the critical checkout and payment function. Moreover, it was cumbersome for mobile users to navigate.
Fixing this meant investing in a significant redesign on the backend. Unlike other site redesigns, UltraSabers needed to preserve its images, which are a key part of the saber-building function and are probably a major factor in its #1 Google ranking. 
Kevin created identical images that download faster and developed a very complex set of variations, over a billion to be precise, to maintain each option a user can choose when building a saber. "This was not an easy task," John says. "It was intense," Kevin added.
The redesign also made the site's real estate more efficient. "We're still finding ways to take advantage of all this new space," John says.
To boost mobile speed, Mode Effect upgraded UltraSabers' hosting service to a premium WooCommerce solution that optimizes site speed and maintains it during heavy traffic periods.
The redesign and deployment process was lengthy. The team initially estimated eight months. The amount of work, complicated by the pandemic, stretched the timeframe to two years, but the goal was to get the job done right and maintain UltraSabers #1 Google ranking. 
The Results
UltraSabers uses three SEO vendors. After the site launch, all three found the company had maintained its top Google rank even with the site's new functionality. In addition, it is now ADA-compliant, "which Google loves," John notes.
The technical debt – a potential loss in ranking due to the long project timeframe to get to a superior solution – ended up being low. UltraSabers now has a more agile mobile site that's closing significantly more business. "Most of our competitors get about 50 sales per month," John says. "We close 50 sales before noon!"
Best of all, the site is no longer "tethered" in place. "We can now make changes without breaking some kind of integration," John says. "Really, our hands had been bound for about three years" before Mode Effect's solution was put in place.
This is an outcome we achieve time after time for our clients. It's typical that our clients arrive with major technical problems and have chained themselves to a WooCommerce implementation that has had multiple vendors trying different methods to varying levels of success. The end result working with us is a faster and more scalable solution for their online store.
While achieving this, we focus on staying here as a long term solution and partner to their success. This is the goal for Mode Effect each time we engage with a client. We're happy to reflect that outcome with Ultra Sabers!
"Most of our competitors get about 50 sales per month. We close 50 sales before noon,"

-John Trent, Marketing and Website Director, Ultra Sabers