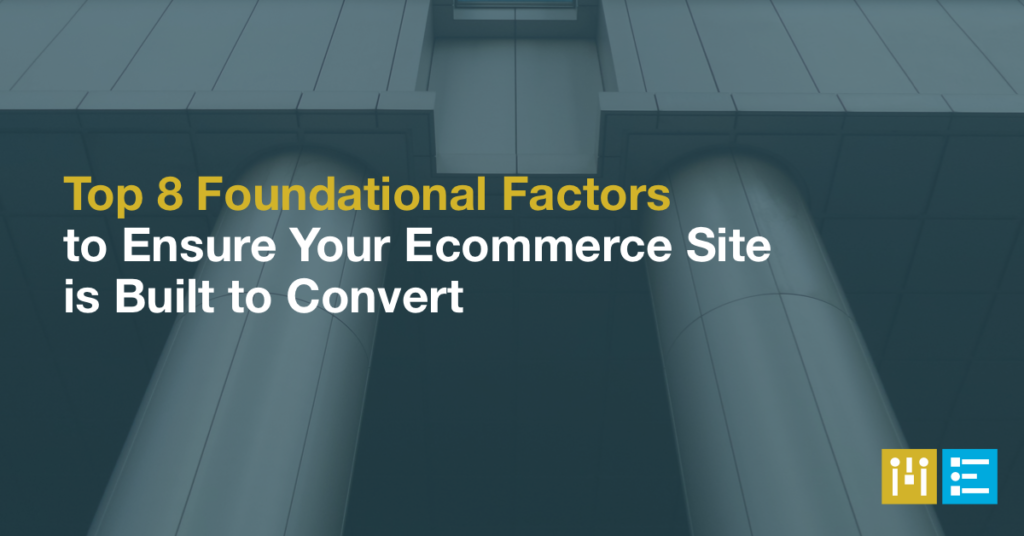 Top 8 Foundational Factors to Ensure Your Ecommerce Site is Built to Convert
Growing an ecommerce store from the ground up – or advancing growth in an existing store when it's stalled – is no easy task. We've rounded up a list of our top strategies for growing your ecommerce store. These tips are based on our experience helping our clients grow their online businesses for nearly two decades.
1. Core Web Vitals: We've written a comprehensive article on what is Core Web Vitals that we encourage you to check out. In a nutshell, Core Web Vitals is a new metric by Google that started rolling out in May 2021. It is a series of metrics that essentially puts the focus back on the user experience (UX). According to data, only 13% of ecommerce websites are prepared for the Core Web Vitals update, with 87% not prepared at all. That means that if your site is up-to-place with Core Web Vitals, you have a significant SEO advantage over many other ecommerce sites, including the ones you're competing with.
The three core web vitals Google deems necessary for a good page experience are:
– Largest Contentful Paint (LCP)
– Cumulative Layout Shift (CLS)
– First Input Delay (FID)
These new metrics by Google form the basis of what will turn out to be a crucial shift in SEO strategies. It's important to be aware of and in step with them for any ecommerce site looking to rank in search engine results pages (SERPs). We've helped dozens of ecommerce stores align with Core Web Vitals, and we can help your site as well. It's definitely low-hanging fruit to tackle and you shouldn't delay. Just reach out to us to learn more about our Core Web Vitals services.
2. Usability Audit: A usability audit dovetails with Core Web Vitals but goes deeper to develop an understanding of what your site users are doing on your website. By conducting this type of audit, we record and gain authentic user data of what users are doing on the site – where they are clicking, including rage clicks; what issues they are experiencing; where text and images are not functioning correctly; where checkout bottlenecks occur; and more. Ecommerce owners don't always have a realistic understanding of how others are experiencing their site and make assumptions that may or may not be true. Through user recordings, we can gain insights into where there may be issues blocking conversions. Microsoft Clarity is a great free tool to use that captures how real people actually use your site.
3. Optimize What Matters Most First: When looking to optimize ecommerce pages, we always recommend starting with your best sellers. This often raises eyebrows and comments like, "we don't want to mess with a page that's converting." However, these pages are your most highly trafficked and, therefore, data rich pages. That data provides knowledge for further optimization and that can be translated to other lesser performing pages. Google Analytics is the best starting tool to understand how people are buying on your website.
4. Indexability: Are you exposing your website correctly to search engines? You really have two consumers: your customers and search engines. If the search engines can't index your site, your consumers will never find it. This is why we recommend you start with indexability – ensuring all of your relevant pages are indexable by Google and other search engines – then move on to addressing usability issues. When it comes to indexability, a simple and foundational step is to set-up Google Search Console and submit your sitemap.
5. Product Listing Ads: Google has made product listing ads free so why not take advantage of this feature. Of course, you'll get more exposure with a paid ad, but trying the free option is a good place to test the waters with Google product listing ads, especially for local visibility. It can be a bit tricky to set up and we've helped lots of ecommerce sites set this up with Google. In a nutshell, you syndicate your product catalog to Google. It's in the syndication piece where a lot of things can go wrong, and store owners get stuck. We're here to help you if you'd like to try this out and make sure you set everything up correctly without hiccups. While there are WooCommerce plugins like Google Listings & Ads to help facilitate this process, it can still be challenging to set-up and often requires some custom coding. For our .net clients, we create custom feeds in order to get the product listing data to flow into Google correctly.
6. Google Search Console: We are always surprised at how many ecommerce stores do not have Google Search Console set up. Again, this comes back to indexability. Search console will help you uncover repeatable, fixable errors that can give you a nice boost in visibility. It's worth setting up and referencing often to see where you have room for improvement for indexability and overall performance.
7. Keyword Optimization: Leverage a keyword analysis tool like SEMRush or Moz to understand what keywords are attracting users to your site. Oftentimes our clients are surprised at what content on their site is actually bringing customers to their storefront. We can uncover those nuggets and optimize them for traffic.
8. Monitor for Errors: One thing we find store owners almost never do is look at their error log and review it regularly. Errors are part of maintaining an ecommerce site. Something internal or external to the site can happen that can create an error on your site. Oftentimes, ecommerce owners are not even aware of these errors – unless they look at their error log. Errors erode the user experience and create stumbling blocks in the sales funnel. The error log should be reviewed, and errors corrected at minimum quarterly. If you're running an advertising program with a spend of $10,000 weekly or upwards, we'd recommend daily monitoring of the error log. You don't want an error to be eroding your precious ad dollars and blocking sales. Use a tool like WordPress' Error Log Monitor to stay vigilant on errors that may be costing you customers.
We hope you've found this helpful in thinking about some key foundational areas that impact conversions on your ecommerce store. Mode Effect is a full services econsultancy and ecommerce development agency. We're here to help you tackle these and many other challenges to help grow your ecommerce business. Get in touch with us today to learn more about our Foundational Audit and how we can become an extension of your team!