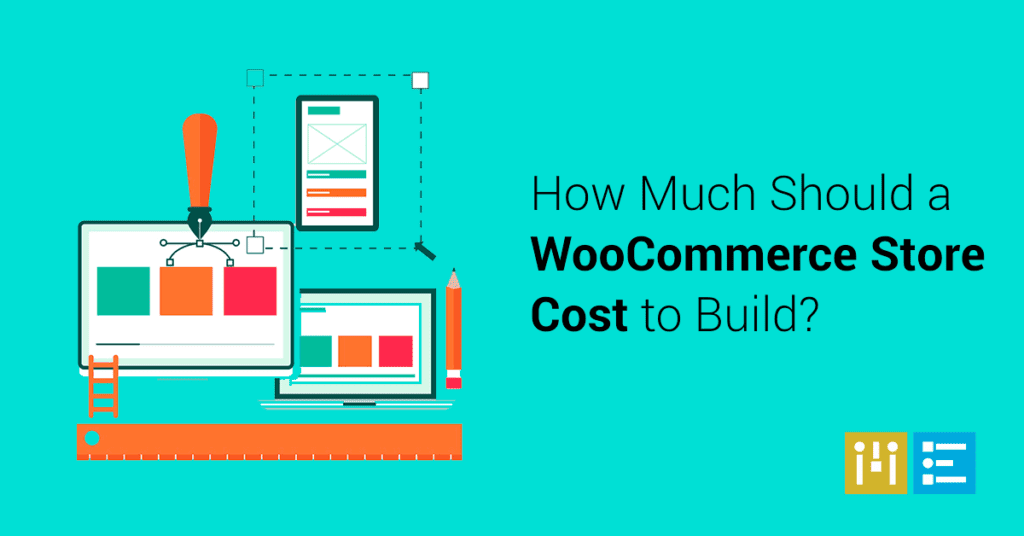 How Much Does a WooCommerce Site Cost to Build?
If you've had an online store for some time or you're looking to build a store, WooCommerce is a great option for your business. The Woo platform affords you the ability to customize your online store to fit your business model.
New to WooCommerce? Read our post on WooCommerce and why it can be helpful to your business here.
The adoption of WooCommerce has been staggering. It now powers close to 30% of the small business eCommerce shopping cart market.
Skip this and get right to the goods!
Download a free guide to creating a WooCommerce site Pricing Checklist
Common Assumptions on launching a WooCommerce site

The biggest assumption most users have about WooCommerce is that it can be as easy and affordable as using WordPress. This isn't really the case. Strap-on WooCommerce to WordPress, add some products, and you're off and selling! Unfortunately, this is where users hit a technical roadblock.
WooCommerce really is it's own ecosystem living inside of a WordPress install. It utilizes a deep system of necessary extensions that are even more essential to your online store than that of a typical marketing website. Users quickly can become overwhelmed by the sheer responsibility of managing not only the plugins for WordPress but the ecosystem of WooCommerce and it's very necessary extensions. Then there's the fun of having to optimize your website host or server to run at an efficient speed. Are we having fun yet?
Many know that WordPress themes and plugins are affordable. Domains, website hosting, and other services to launch a WordPress site are relatively straight forward for the technical business owner. Especially with so many great hosting options out there.
While the promise of running a shopping cart inside WordPress is a good notion, it quickly can become a difficult task. Not to mention if you're migrating to WooCommerce from another eCommerce platform. The process requires some technical know-how and configuration that you'll need to plan for.
Need help with your WooCommerce store?
Your leading experts in WooCommerce at Mode Effect are here to help.
Other eCommerce platforms allow you to setup a store and start selling fast. The downside on most hosted platforms is that you won't be able to create the store your business needs to market and sell to your customers in a successful way.
Many online businesses have suffered by launching on a hosted platform quickly outgrow their platform and need to start over! This means going back to the drawing board on the hard work and momentum you've gained to win customers and create a profitable business.
As a business owner, it's important for us at Mode Effect to give you the honest truth about using WooCommerce. It's not a perfect platform but it continues to improve over time with key features that allow you to leverage and create the business you need to sell products and create a profitable business online.
There's so much noise online to drive you towards platforms to host your business on. It's overwhelming! Wouldn't you rather invest and build your online business on a more sustainable platform that affords you ownership? I thought so!
Okay, so where do I start?

Skip this and get right to the goods!
Download a free guide to creating a WooCommerce site Pricing Checklist
Are you migrating your current store to WooCommerce? Check out our article on migration here!
If you're looking to set up WooCommerce. The first place you're going to want to start with is finding a reliable website hosting company. In the case of using a managed WordPress host, you'll be able to avoid the task of self-installing WordPress and get right to building your online store. The added beauty of course to all of this is that the WooCommerce plugin for WordPress is free.
Here are the foundational pieces you'll need:
WooCommerce theme – I can't stress enough how important it is to find a theme that's specifically built for WooCommerce. Especially if you're looking to launch quickly.
Expect to spend as low as $20 or as high as $100 (one time or yearly). You can find great options for Woo themes at Woocommerce, Elegant Themes, and Organic Themes.
2. Website hosting for WooCommerce – As mentioned before, you'll at least want to use a managed WordPress plan. Most popular website hosts have these plans.
You can expect to spend as low as $10 or likely as high as $100 (per month) when you're just starting. Servers and hosting plans can quickly rise into the thousands as traffic and orders grow.

WP Engine, Pressable, Kinsta, and Godaddy have great Managed WordPress hosting plans to choose from.
3. SSL Certificate – $50+ (yearly)
To encrypt information transacted on your site you're going to need an SSL certificate installed on your website. You can get this with your website host at no additional cost. This should only apply to purchasing from a third-party.
At a median cost, you'll need to set aside around $145 to kick things off initially.
---
Essential WooCommerce Extensions
Credit card purchasing – FreeWooCommerce.com allow you to download extensions from Stripe, PayPal, Amazon, etc. Just be sure you have an account for the credit card service you choose to use. In most cases, it should be free to set up, but you'll be charged an industry standard 2.9% fee.
You can login to each shipping platform's account to allow notifications to be sent to buyers on when their products are fulfilled and shipped.
---
Marketing Extensions
You likely know you have to invest into marketing your store. So you'll need additional extensions to help with these efforts. If you've had your store and are migrating this isn't a surprise. But for new stores, you'll want to make sure you get these essential extensions below.
E-mail marketing – (from $49 yearly)
Mailchimp, Constant Contact, etc
SEO – (from $49 yearly)
Recommendations: Yoast, All in One SEO, etc
These two extensions really should be mandatory for WooCommerce store owners to purchase. Because as you likely know without marketing your site you'll never see the success you're looking for in your business.
---
Security Recommendations
If you're running your WooCommerce site on a shared host (Godaddy, Bluehost, etc) you definitely need to add on security to protect your customer data and avoid any ongoing hacks to your website.
Website Monitoring / Malware protection – ($299 yearly)
Recommendations: Sucuri, Sitelock, etc.
These items should bring you to a great starting point for your WooCommerce website. Then all you have to do is launch and go make sales! Easier said than done right?
You likely already know it's hard work being a business owner and being responsible for your success. One of the best traits a business owner can have is the ability to scale their efforts. This is why having a technical partner for your growing online business is so crucial.
Need help with your WooCommerce store?
Your leading experts in WooCommerce at Mode Effect are here to help.
WooCommerce Cost Recap

Since we've taken a good look through the items any store owner needs to launch their business on WooCommerce let's go through a quick recap of the costs to expect for launching your online store. These calculations are based on median pricing and a conservative approach to launching your store.
Up-front / Annual Costs
Domain $10
Theme $60
Hosting $350
SSL Certificate $50
Extensions $200
Security $300
Total $1,000 (Rounded-up per year)
Most business owners can afford this investment I'd imagine. You also have a good grasp on how to approach selling to your audience and bringing in the business you need to attract to be successful, so it's great to have these expectations clear on the standard items that can't be negotiated on to get started.
One key item to plan for is your time. Here we see business owners waste value time in getting their business launched due to lacking technical skills. This is a roadblock to your goals and personal success.
I'm hopeful that this article has given you some valuable information on planning for your WooCommerce store. Please don't hesitate to let us know if we can be of assistance with your store.
Get the pricing guide to help you get started!
Download a free guide to creating a WooCommerce site Pricing Checklist