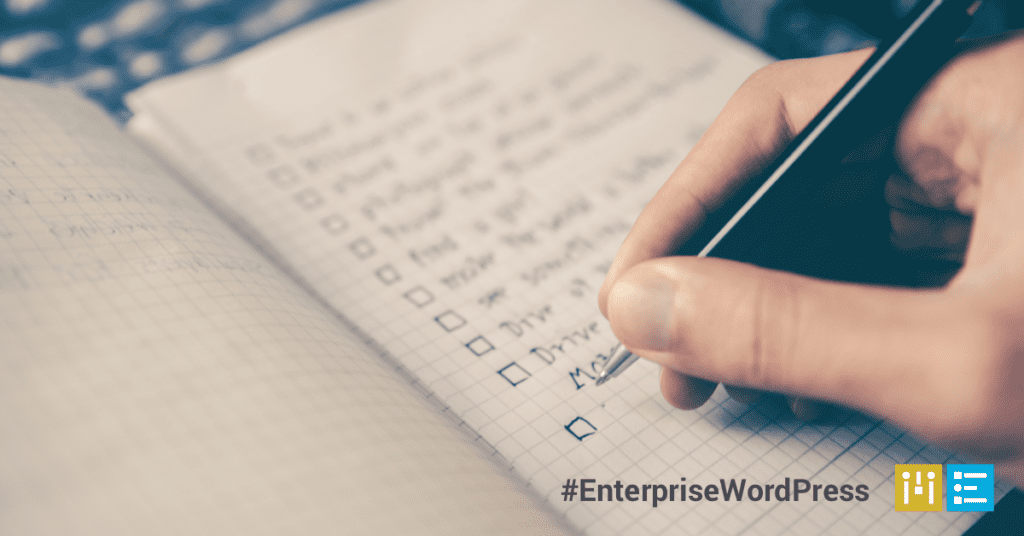 A Checklist for Selecting a WordPress Development Partner for Enterprise Companies
An appealing functional website that offers its users an enjoyable experience and meets their needs is a major key to the success of every business. WordPress is one of the most popular website platforms today. It powers nearly 30% of the Internet for both small and enterprise businesses, with 76.5 million global users. It is the trusted website platform for enterprise companies like TIME, CNN, DowJones, UPS, and Facebook. With more and more enterprise companies selecting WordPress, let's look at the must have skills and knowledge a WordPress website development partner should have when working with these enterprise organizations.  
These items might be very familiar to you as we've covered these items before in a recent article.  So let's get right to the point.
Your WordPress development partner should be an expert at their…
☑️ Ability to Scale WordPress
One of the beautiful things about WordPress is its ability to scale. With the continued trend for brands to develop valuable ongoing content for their audiences, WordPress is an ideal solution for content-focused companies. At the core of most content programs is a blog – and WordPress is ideal for supporting a robust blog. Its intuitive content management system (CMS) is easy-to-use and allows for various permissions to be set for multiple users. Users can easily update and publish content. WordPress also makes it simple to import media such as photos, videos, and graphics. When new functionality is needed, WordPress' 30,000 plus plugins and widgets can be leveraged to add new functionality.
An experienced WordPress developer will be able to guide enterprise clients through various options as they scale their sites.
☑️ Build Efficient & Custom WordPress Themes
Many companies, including WordPress enterprise companies, can certainly leverage a WordPress theme for their website – there are some awesome themes out there! However, most enterprise sites will opt for a custom-developed WordPress theme. There are some advantages to this. Your website can be custom-designed to align with your site goals for aesthetics, functionality and user experience. When looking for a WordPress partner for an enterprise website, be sure to seek out a vendor with experience in both customizing WordPress themes and creating custom-developed websites.
☑️ Understand Security with Open Source Platforms
WordPress is an open source website development platform. Overall, this has proven to be a very good thing and offers many advantages. As an open source platform, WordPress provides ease-of-use for a large community of users and developers. Its vast network of developers means there is the constant development of new WordPress plugins, themes, and features. Unfortunately, as an open source platform, WordPress is also (just a tiny bit…) more prone to security concerns. Of course, it's impossible to guarantee 100% security for any website regardless of the platform it's built on.
WordPress' open source is much more of an advantage than a disadvantage, so enterprise companies should not be discouraged from selecting it. It simply means that enterprise companies considering WordPress need to select a WordPress development partner that is well-versed in WordPress security and has the internal resources to maintain a website's security. Additionally, development partners must be able to immediately address and resolve any security breaches or hacks.
☑️ Know How to Select & Evaluate WordPress Plugins
We mentioned that selecting a WordPress development partner that understands WordPress security is key. To expand on that a bit more, the biggest area of risk for hacks is typically around WordPress plugins. A good WordPress developer will understand this and know how to select and evaluate WordPress plugins to ensure the ones added to your site are reputable.
Some things to look for include:
When was the plugin last updated?

What are the plugin's ratings?

What does the plugin changelog indicate?
☑️ Working with WordPress VIP
WordPress VIP is Automattic's solution for enterprise WordPress hosting. It's a great option for enterprise companies, as it's designed for the needs of high traffic, high profile websites. A nice advantage of hosting a site on VIP (and a process Mode Effect has been through with them) is that all code is checked for security, performance, and future-proofing by the VIP team prior to a site going live. Selecting a company that has worked with VIP, notably if you plan to host on this solution, will ensure that you have a partner who understands how to work with VIP on code, support, and security.  
☑️ Ability to Recommend the Best Hosting Option
It probably goes without saying that hosting for WordPress enterprise websites needs to be on a private server. This is important not only for security but also for site speed issues. For enterprise sites where speed, security, unlimited bandwidth and storage are factors, private hosting is a must. While WordPress VIP is a great hosting option for enterprise WordPress companies and we highly recommend it, there are other options that may be better depending on a site's needs. Pagely and WP Engine are some other great hosting options for large WordPress websites.
☑️ Technical Evaluation of Requirements for WordPress
A good WordPress development firm can help you determine if your website requirements are a good fit for WordPress. At Mode Effect, we believe that WordPress can deliver the needed functionality for most website builds, but there are times when another development platform might be better. And, we'll always be honest with you if that's the case. Here are a few questions to consider as you think about your website's needs:
 

What are the key requirements for the website?

 

What is the needed core functionality of the CMS?

 

How do you want the site structured, created and organized?

 

How will the site be used to add content, edit content, upload and edits images and other media files?

 

Will you need search functionality?

 

What are your user profiles and how do they map to your requirements?
How's that for a run-down?  While there are many more aspects to cover on using WordPress for enterprise solutions, we hope you've gotten a good overview of these crucial items to consider in your decision for a partner.
Let's Start a Conversation
As a company that specializes in WordPress development and WordPress support for enterprise companies, we'd love to talk to you about how we can collaborate with you.
Please contact us today, and let's get the conversation started.