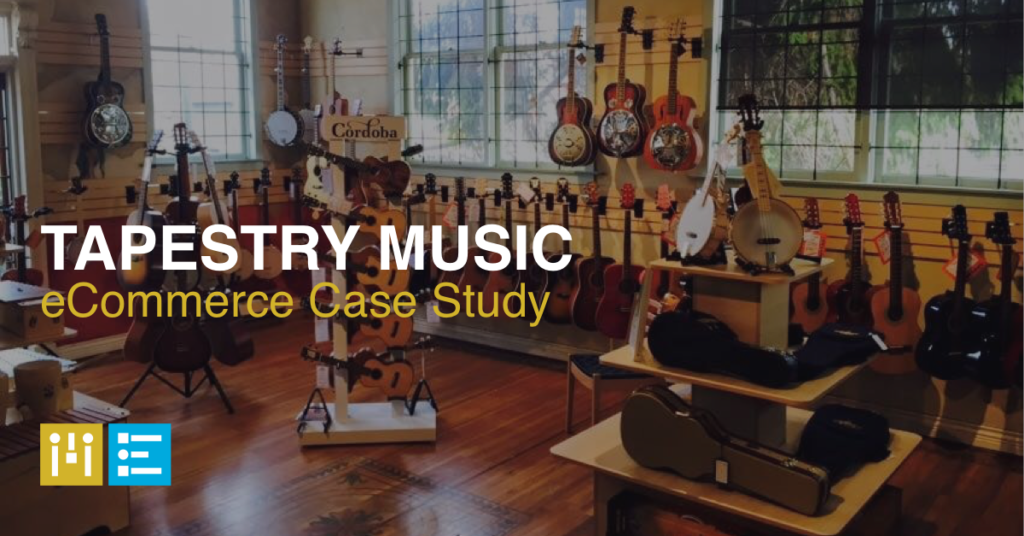 Tapestry Music – Case Study
How a Redesigned Website Helped a Music Store in British Columbia Achieved a 30% Increase in Sales
Tapestry Music sells musical instruments online and in three locations in British Columbia. Founded in 1996, Tapestry has 24 employees who sell, rent, and repair a range of instruments – brass, woodwinds, orchestral, strings, and drums/percussion. Tapestry also sells and rents amps and offers accessories like sheet music, music stands, tuners, and metronomes. Music and voice lessons are available at two physical locations and the website offers video instruction as well. The company has dedicated staff who work with local schools. Its target market is people in their 20s and 30s. Most of their customers are males. It recently started radio ads to reach out to an older demographic that showed a renewed interest in music during the pandemic. The second generation of music enthusiasts has followed in their parent's footsteps to continue the business' success.
The Challenge
"Buying an instrument is personal," says Michael Sabourin, a co-owner and vice-president. "We have a personal connection to customers based on trust. All our merchandise must pass a 12-point inspection before it's shipped. Because instruments have to be set up properly, we have videos on our website" to help guide customers who receive instruments by mail.
Still, the website and e-commerce sales were low in the 2010s. Michael hired a third party to conduct a thorough audit, which identified multiple opportunities to expand online sales. He turned to his e-commerce platform provider, AspDotNetStorefront / VORTX, to get recommendations for website redesign. AspDotNetStorefront suggested Morrison Consulting / Mode Effect.
The Solution
"We did a complete design overhaul of the Tapestry site," says Christian Young, Account Executive for Morrison Consulting / Mode Effect. "It had been a very basic site, hosted on a platform with other music stores." The content was cumbersome with few customer-friendly options. "We designed a site that's super customer-focused," Christian notes.
The new site features Tapestry Music's best-selling categories and includes space for clearance sales, news, and testimonials – all supported with content that stresses quality.
"Tapestry didn't recognize the full potential of an e-commerce website," shared Tyler Heaton, who specializes in e-Commerce Optimization and Internet Marketing, for Morrison Consulting / Mode Effect, to set up a coordinated strategy to:
Create and support the Tapestry Music brand
Stress core values of trust, customer-focused services, and stock visibility
Deliver SEO services to strengthen site health, including optimizing content and removing duplicate content 
Tyler also set up a merchandise feed to the Google Merchant Center, revamped the company's Google Ads strategy, and corrected problems in the analytics functions. He also created an email outreach strategy for customers who opt in to subscribe.
"Everything about the site is now really foundational," Christian says.
The Results
"Our overall sales are up 30% since the site launched," says Tapestry co-owner Michael. "Our employees love how the website software lets them quickly check what merchandise is at which location – no more calling around to different stores!"
Analytics for website performance and overall sales back this up:
e-Commerce conversion has been as high as 155%
Online transactions through Google Shopping have been as high as 64%
Bounce rates were reduced by 98% to under 2%
Individual site visits increased in length by more than 63%, up to 1:40 from 1:01
Organic content is performing well year-over-year on Google:
The number of new and overall users has doubled to 35% of all site visits
Bounce rates dropped to under 1%
Average of 8 pages visited per session, up by 119%
A 27% increase for time on site to 2:24, up from 2:03
Asked how he views the site, Michael laughs. "It works!" adding that "working with Morrison Consulting / Mode Effect is like working with someone I've known for years. It doesn't feel like a strictly business relationship, but a friendship as well."