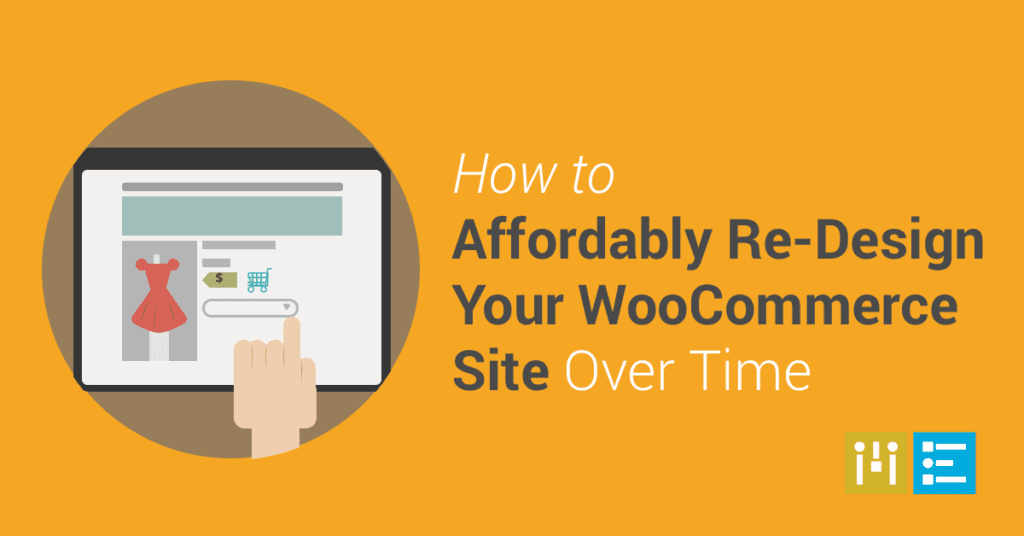 How to Redesign Your WooCommerce Site Affordably
You're out here doing it!  There's no time for blowing up your store and redesigning everything while you're in the business of making money and serving customers.  That doesn't make sense.  However, at the same time, you have to keep your store fresh and take advantage of every design tactic that will help to improve conversions across your site.
I know you understand the need for optimization,  but it's a task that easier said than done. Especially if your staff is purely technical and if you don't have any inside resources to execute on this.  The good news is that you can make a lot of easy and impactful site improvements with the tools that integrate nicely with WooCommerce or whatever e-commerce platform you use.
Now before we go into listing all the tools you can use, let's think through approaching design on an incremental level.
---
Many Website Design Improvements Can Be Done Incrementally
Redesigning an entire website can be an expensive and time-consuming effort. It's often not necessary unless a site is performing very poorly or using old tools and themes that can be easily hacked. This makes sense in the case of the open source world where WordPress and WooCommerce have their core.  You have to plan for proactive updates technically, and specifically, design updates to help increase conversions.
The experts at Neilsen Norman Group agree that most sites don't need an entire design makeover. It's better to make incremental changes to improve the site's performance.  Let's dig into a couple of easy ways you can approach some ongoing design updates.
Look at site analytics

to see which pages have the lowest conversions. Compare them to higher-performing pages and identify factors that need improvement such as:

Content that's old, incomplete, or thin

Images: some products need a professional photographer or graphic designer to present well online

Mobile performance: be sure to pay attention to how pages work on mobile devices;

Statista

says more than 22 percent of e-commerce was spent via mobile for the first quarter of 2017

Pay attention to fulfillment history

. Are products on poorly performing pages often out of stock? It may be time to retire these pages or take them off-line until fulfillment issues are addressed.

Create new category based landing pages.

 Based on seasons or trends it can be extremely useful to drive paid traffic to landing pages that feature specific products.
If you're concerned that the entire e-commerce site isn't performing well, take a broader look at what you can add. Make sure your content includes items like the materials used in your products, measurements, return policy, and note when items are out of stock. Tell customers what's selling well and announce new products. (Trade Gecko)
---
Website Tools Offer a Lot of Design Improvement Options
Another quick option is to check for updates to your WooCommerce or other e-commerce site. If you're prompt about this, you're already handling a lot of fixes for things like usability, accessibility, and security.  Again, open source software requires proactive and constant care.  Your business can't afford to leave this to chance.
Pay attention to theme updates, which don't occur as often as plugins. Updates often bring new design ideas. For example, CyberChimps recently updated themes with sticky headers, so they remain visible as users scroll down a page. It's a new look for sure, but not a drastic change. The cost to implement: $0.
It also costs nothing (other than time) to take advantage of theme customization functions like adding or changing the site identity icon, background image, header and footer messages, typography, and even layout.  Yoast SEO is a great tool to get started on updating these.
Be careful before you make layout changes. You don't want to burden existing customers to relearn your site unless it is absolutely necessary.
If you're certain it is, do an A/B test. This lets you test and compare two designs, usually the current one you have and a new one. WooCommerce recommends a handful of low-cost A/B WordPress plugins that can be set up in minutes.
Remember, your website exists for customers. They generally don't like dramatic change. Focus on updating your site with fresh and useful content. This does more to attract and keep customers than a top-down redesign—and it's a lot less expensive.
It's likely you've been considering this for a while now.  What's your plan to make sure you're implementing a proactive design plan for your e-commerce site?  The difference could mean thousands of dollars to your revenue and increase customer loyalty in a dramatic way.  
Feeling overwhelmed?  
We'd love to be of service.  Stop by our contact page and let us know how we can help increase your revenue in a serious way.