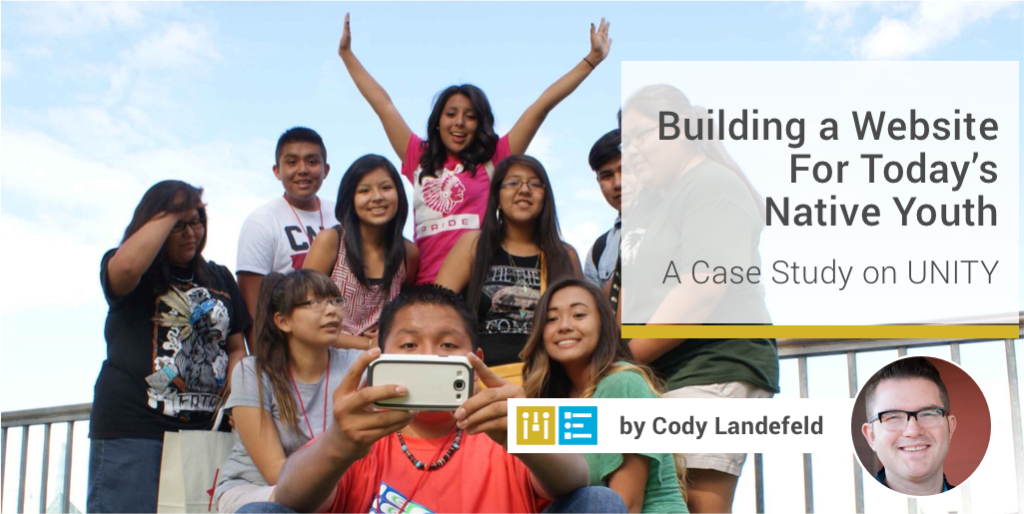 Building a WordPress Website that Appeals to and Inspires Native Youth
UNITY– a Mesa, Arizona-based national non-profit whose mission is to foster the spiritual, mental, physical and social development of American Indian and Alaska Native youth – needed a new WordPress website that appealed to their youth market and was mobile friendly. UNITY stands for United National Indian Tribal Youth, Inc.
After reviewing several vendors through an RFP process, UNITY selected Mode Effect, a Phoenix-based WordPress and WooCommerce website development firm.
"We knew that Mode Effect had a great track record and some awesome clients," said Mary Kim Titla, executive director of UNITY, award-winning journalist and former TV reporter for KVOA in Tucson and KPNX in Phoenix. "Their work was attractive to us, as was their track record of success."
Titla shared that a top priority for the new website was for it to have a more modern look that spoke to their young audience. To make sure that goal was achieved, UNITY conducted a focus group with Native youth to gain insights into what would appeal to them. They also spoke with UNITY staff and trustees to gather their ideas as well.
A second priority for the new website was to ensure UNITY's message was clear. "We wanted to make sure that when Native youth visited the site they got the message right away that we are here to inspire hope and change lives," Titla said.
An additional priority for the website was that it serve as a foundation to build upon to become a resource for all things Native American youth. Titla said, "We now have an attractive website to do this and our hope is the site will become a resource not only for our Native youth, but for those who work with them as well." She envisions adding additional resources to the website in the near future such as job and internship opportunities as well as available scholarships.
A final priority for the website was to ensure that the UNITY brand came through loud and clear. UNITY, celebrating a 40-year anniversary, is currently undergoing a rebranding project with Red Note Inc. to create greater consistency in its messaging and materials. Making sure its website was aligned with its brand strategy was critical. "The new site is reflective of who we are and what we stand for," shared Titla. "It incorporates our branding strongly and marketing component as well."
Titla said that Mode Effect's process for creating the new website worked very well for her and others involved in the project. "Our first meeting was in-person, which was great," she said. "After that we were able to leverage technology to review the website's progress and go through the site live as it was being developed."
Mode Effect delivered UNITY's new WordPress website on time and on budget. "It was a very good experience," said Titla. "Cody Landefeld, Mode Effect's owner, has a great way of communicating his vision and his product in a way that is understandable to non-tech people."
She added that while there may have been some things on their wish list that they could not fully incorporate initially, Cody was great at offering suggestions for alternative ways to achieve their goals.
She also added that because Mode Effect is 51 percent Native American-owned, with co-owner Raquel Landefeld a member of the Walker River Paiute tribe, they appreciated being able to support a Native-owned company as well.
"Cody and Raquel are easy to work, very driven and produce a great product and I highly recommend them," Titla concluded.
---
Learn more about Mode Effect's WordPress and WooCommerce development services, receive a free consultation and a valued guide to hiring a website development company.