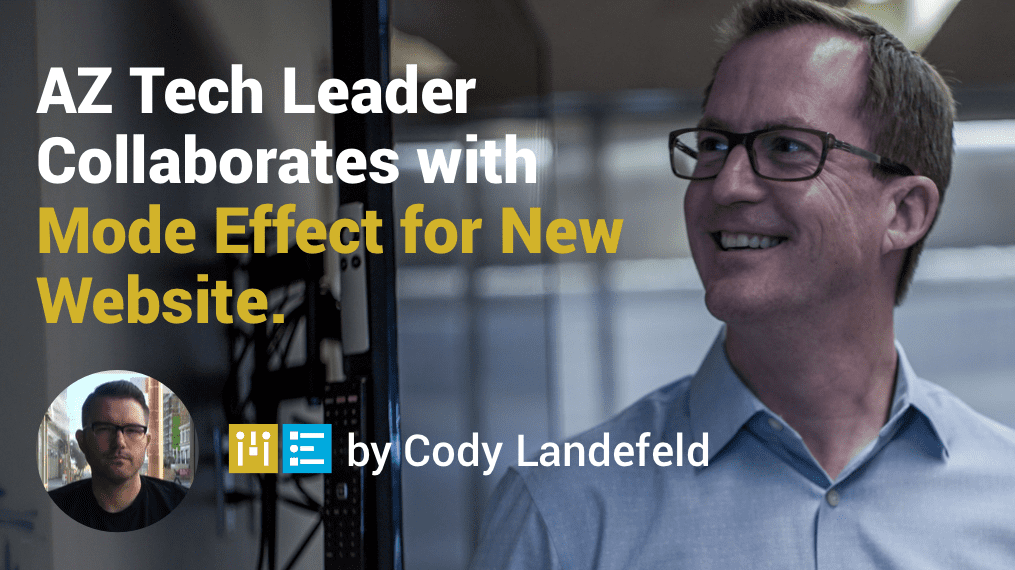 Arizona Marketing and Technology Leader Collaborates with Mode Effect to Launch Website for Consulting Business
For the past 25 years Greg Head, a Scottsdale, Arizona resident, has served as a leader in the software and technology industry, helping to grow three startups into global companies and brands. His experience includes working as an early employee of ACT! and as a co-founder of SalesLogix, sold to Sage plc in 2001 for $300 million. In these roles, Greg was part of both CRM software companies' growth stages. He also worked from 2011 to 2015 as chief marketing officer at Chandler, Arizona-based Infusionsoft, an award-winning marketing automation software for small businesses.
Greg has now turned his passion for technology and entrepreneurship into a growing business consulting and speaking company that serves early stage organizations, notably in the Arizona software market. "My goal is to advise founders and CEOs to help them grow their businesses and create their big visions," he shared.
His new website – greghead.com – was created in collaboration with Mode Effect, a Phoenix-based WordPress website development and design firm led by Cody Landefeld.
"I've known Cody for a long time … since the old days when we both worked in the Valley's first co-working space called Gangplank," said Greg. "And we've kept in touch over the years."
Greg knew he wanted the website built on WordPress so that he could blog and make basic content updates and edits himself. He was also looking for a WordPress development partner that he could collaborate with every few months to make more significant changes to the site and not be limited by big agency costs.  A primary goal was to create a modern professional website that could scale and expand with his evolving business needs as well as serve as a content hub.
"I was looking for a website development partner who understood business and what I was trying to accomplish and could help me verify that I was on the right track," said Greg. "Cody understands both design, website development and business."
Greg shared that he explored different options before selecting Mode Effect to build his site, including independent WordPress developers to full service website development agencies. Ultimately, he selected Mode Effect stating, "They are one of the best WordPress development shops in Arizona, for sure."
In addition to their expertise in WordPress, Greg added that Mode Effect had the ability to create what he envisioned for the site and was flexible in getting there. He added that he was very happy with the final product and looks forward to continuing to evolve the site with Mode Effect.
In addition to running an expanding consulting and speaking business, Greg maintains the popular Gregslist of Arizona Software Companies, recently featured in the Arizona Business Journal. The resource is a comprehensive list of software (SaaS) companies in metro Phoenix and Tucson, Arizona. Currently, there are 212 Arizona software companies on the list, and it is updated on an ongoing and regular basis.
Greg shared that he has enjoyed founding the list and maintaining it. "I hope it's a meaningful contribution that showcases our booming tech startup scene in Arizona," he said.
While not busy helping to grow and promote the Arizona tech sector, Greg enjoys spending time with his family, including his wife and two college-aged kids. They try to spend as much time as possible in Park City, Utah, where they enjoy hiking and skiing.