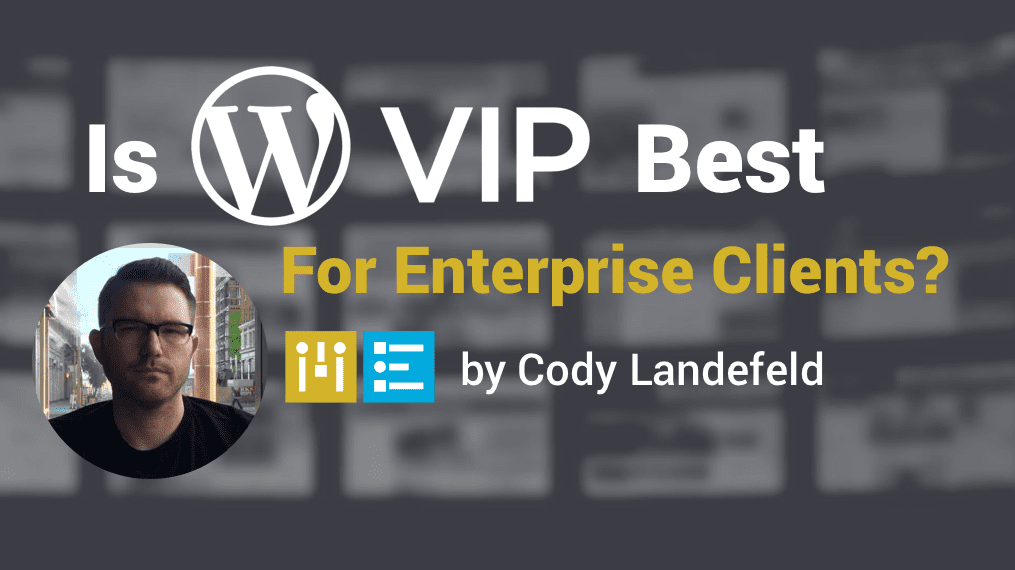 WordPress VIP for Enterprise Clients
WordPress is the most widely used content management system worldwide and powers nearly 27% of the top 10 million sites on the web. Automattic, the company that created and continues to own and operate WordPress, launched WordPress VIP program as a hosting solution for enterprise WordPress clients. Since its launch, the program has become a leading hosting solution for enterprise websites that delivers securing hosting and much.  
WordPress VIP offers many advantages for enterprise websites. Let's dive into them!
Freedom and Scale with WordPress VIP
WordPress VIP offers the freedom and depth of an open source platform, for which it is well known and respected. The VIP program offers hundreds of plugins that can easily be integrated into enterprise websites. The platform as a service (PaaS) architecture allows developers to extend WordPress and build any custom feature they desire.
VIP also includes extra products and services such as security and monitoring. Since companies are working directly with WordPress, they can be guaranteed to always have the latest version of WordPress containing the most recent features.
At Mode Effect, one our our website development specialities is creating WordPress websites that are built for the WordPress VIP platform and hosted on it. Through our relationship with WordPress VIP, we have learned how to design and develop sites to run on VIP and worked hand-in-hand with the WordPress VIP team on the code review process, a critical component to creating a high-performing website. Most recently, we created jesusdailybible.com — a popular, high-traffic blog — built to meet VIP specifications.
Secure Hosting with WordPress VIP
Enterprise websites suffer greatly when they go down, as users will quickly abandon their loyalty to the site. WordPress' VIP solution is designed specifically for the needs of high traffic, high profile websites who need and demand secure hosting and uptime. WordPress VIP's secure codebase ensures impressive uptime – with 100% uptime most months of the year.
The VIP service can typically serve more than a hundred million page views in one day without any challenges. WordPress VIP hosting ensures your site is safe and secure. Sites are monitored 24/7 and elastic scaling allows customer to scale their websites on WordPress' +2k server grid with unlimited traffic, bandwidth and storage. WordPress runs the technology stack from servers, firewalls, load balancers, hourly backups and WordPress upgrades as part of the VIP program. This takes a tremendous burden off of internal teams to manage a complex hosting technology stack.  
Support with WordPress VIP
WordPress offers its VIP clients dedicated 24/7 support from a team of leading WordPress developers. With a robust developer community, both building the core platform and the plugins, there is a large pool of talent available to customers for launching new site features.
Code review on nearly every line of code is part of the service as well and full theme code review is typically within 10-15 business days. This process ensures optimal performance, speed and security for each and every website on the VIP hosting. All plugins and themes must be fully GPL compatible or custom coded as well, again to maintain the integrity, security and speed. Developer training is also available as part of the VIP solution.

Pricing on WordPress VIP
The pricing structure on WordPress VIP is pretty straightforward. There is a one-time setup fee and a flat monthly rate that covers:
     

Up to 5 sites

     

Unlimited traffic

     

Unlimited bandwidth

     

Unlimited storage
In addition, customers select a support package that best meets their needs. A key benefit of WordPress' VIP pricing is that it's predictable in that companies won't be charged for overages. Through our relationship with WordPress VIP, we are able to extend benefits to our clients who select VIP and help them avoid on-boarding costs otherwise unavailable to them.
Is WordPress VIP for You?
As the WordPress VIP program continues to gain momentum as the solution of choice for many enterprise companies, we look forward to our continued work with some of these organizations. To learn more about WordPress VIP for enterprise clients, read out recent article, WordPress for Enterprise Companies.

At Mode Effect, our work with both enterprise clients and the WordPress VIP program has enabled us to understand very well how VIP works and how it benefits enterprise clients. If you are considering WordPress VIP for your organization, we'd love to be an extension of your team in helping you make a successfully transition onto the VIP platform. Based on our experience with WordPress VIP, we think you'll like what you see and experience with the platform!