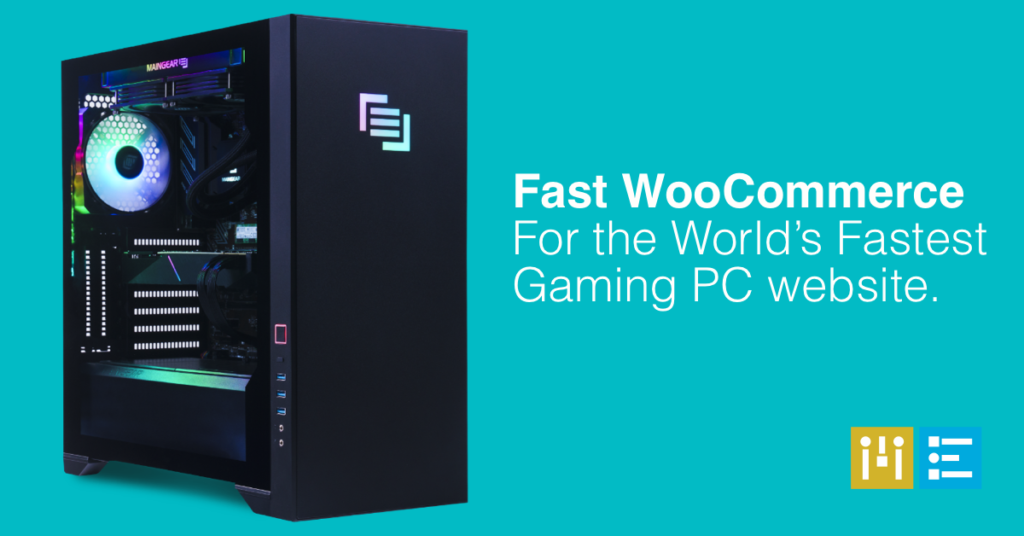 MainGear – Client Case Study
How MAINGEAR Achieved Consistent Speed and Stability on its Ecommerce Storefront and Found a Partner for Long-Term Growth and Success
MAINGEAR.com, located in Kenilworth, New Jersey, was founded in 2002 with a mission to build high performance desktops and laptops to order tailored to a user's specific needs. What began as a two-man business has now grown to a team of 30 employees servicing gamers, creatives and anyone needing a custom-built computing solution.
The Challenge
After migrating its current website over to WordPress from the prior platform to modernize the site, MAINGEAR began experiencing some challenges with speed and performance, especially with high volume traffic, which often happens when they get a shout out from a gamer influencer.
"While we did a lot of the work on our own and tried to resolve the issues for about three weeks, we knew we needed some outside expertise as the site was not performing as fast as we'd like it to and we kept having challenges with both speed and stability," shared Wendel Santos, Creative Director for MAINGEAR. "We found Mode Effect from an email we received from them. We actually got the email months before we reached out, but when we started experiencing challenges, we remembered about them and decided to see if they could help us resolve our issues."
The Solution
Mode Effect got started by conducting a thorough evaluation of MAINGEAR'S website, looking at the site top to bottom from the server, plugins, themes, PHP version and hosting environment. The goal of the evaluation process is to pinpoint the weak points and then begin to tackle the areas first that will make the most impact, working down the list of issues.
"Generally, every site we look at has three to 5 weak points," said Mode Effect developer Kevin Brent, who led the MAINGEAR project. "The hosting environment was their primary weak point. Their server simply could not handle their traffic and user load."
Mode Effect started with migrating MAINGEAR over to its custom hosting environment designed specifically for WooCommerce and ecommerce stores, which made an immediate positive impact on speed and stability.
"Changing the server (hosting) changed the entire experience," said Brent.
From there, Mode Effect addressed some minor coding issues on the site, noting their code was overall in good shape. With the primary issues that brought MAINGEAR to Mode Effect resolved, now they are in maintenance mode, where the site is routinely monitored, and any issues that come up are promptly resolved.
MAINGEAR is also a company that likes to manage many aspects of their site themselves and be able to make changes quickly. They are happy to now have the comfort to manage some aspects of the site themselves.
"We are a dynamic company and things change quickly," shared Santos. "Having a team like Mode Effect gives us a level of certainty that we can mess around with our website and make some modifications on our own and not be scared as we know they are there to support us."
The Results
MAINGEAR has experienced the following results from its collaboration with Mode Effect:
A consistently fast, stable, and high-performing website and ecommerce storefront
The ability to handle high volume traffic and usage during spikes without worry about adverse impact on site performance and speed.
A site that offers MAINGEAR the option to manage many things on their own while staying consistent with their branding.
A partner that is flexible, creative, and able to provide solutions in MAINGEAR'S dynamic business environment.
The comfort of knowing that they have a partner that can grow with them and continue to meet their needs.
"There has not been a single thing we've thrown at Mode Effect or an idea we've brought to them that they have not been able to provide us with a possible solution for," said Santos. "They have great communication and are flexible, professional and knowledgeable. What we really love about them is that they are able to work with us whatever our needs are."
"Clients like MAINGEAR are fantastic to work with," stated John Morrison, Mode Effect CEO. "They are forward thinking, growth-oriented and committed to the best solutions to scale their website and ecommerce storefront."
Is your store experiencing similar challenges? We're always here to help. Get in touch with us today and let us help you speed up your site and accelerate your sales!