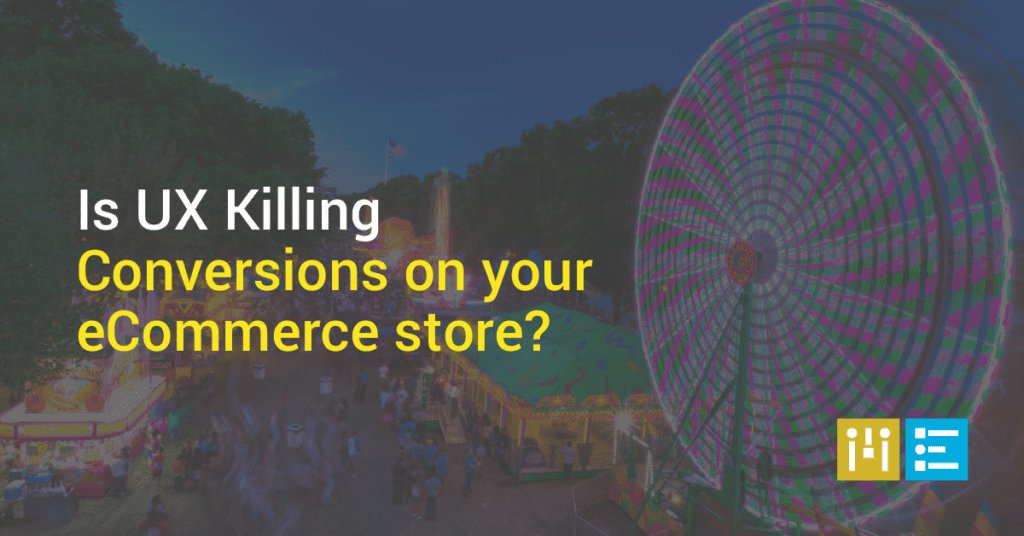 Is UX killing conversions on your eCommerce store?
A user's experience on your ecommerce website will have a strong impact on how long they stay on your site, how much they navigate through it, and if they make a purchase while visiting.
When it comes to conversions, your user experience is critical.
So, let's dive in and look at four key areas of ecommerce website UX design that will help ensure you don't lose conversions for the users you've worked so hard to attract to your site.
Make a great first impression on your ecommerce website
It takes a matter of seconds to form first impressions when we meet new people. It's not much different when it comes to the impression your ecommerce website makes on its first-time users. When a new user lands on your website, they need to know the answer to these three questions immediately:
What do we sell?
What is our brand all about?
What makes our product special (our value proposition)?
This information should be visible front and center on your home page without the user having to scroll down or engage any further on your website.
Let's look at Thrivemarket.com as a great example. Right away we see that they sell "wholesome products at wholesale prices" and they use imagery to reinforce their messaging. Their brand and value proposition are reflected in their "mission to make healthy living easy and affordable for everyone."
Balance search and discovery on your ecommerce website
You want to make it easy for your visitors to find what they're looking for on your ecommerce website through such tools as clickable categories and a keyword search box. However, you also want to balance searchability with delighting users with new products that may be of interest to them.
Balance searchability with delighting users.
Amazon, of course, is a great example as their product suggestion algorithm serves up highly customized ideas based on your past purchase history. But there are other subtle ways to introduce new products to your users without distracting them from their initial interest.
Many user design experts advocate for a clean, uncluttered website design and user experience. We like this trend as well, but it does not always lend for introducing new products easily.
Cuyana.com, an online clothing retailer, is an example of how to promote other products while still supporting its minimalistic brand and clean user design. By making its "Best Sellers" page visible and accessible from all other pages, including the home page, users can easily see what like-minded consumers are purchasing.
Help users make selections on your ecommerce website
It's important that your ecommerce website makes it easy to select products. By providing all the needed information about your product, you will enable users to feel comfortable and confident in their purchase decision.
Product images
Let's start with product imagery. Pictures tell stories and always speak louder than words. The current UX design trend is toward larger product images. Larger images allow users to see the product's details and have been shown to increase conversions.
UX designers are trending toward larger product images.
Ideally, users can interact with the images by scrolling over them to move around and enlarge the image or hone in on a detail. Including images that show the product in action, if applicable, are also helpful.
Product descriptions
While product images are critical, you'll also want to have a clear product description that provides the relevant information a user needs to make a purchase decision. If the description is long, you can break it into clickable categories like the Cuyana example below, where a user can navigate between the overview, dimensions and details.
A few additional important items to consider when helping users make their purchase include:
Featuring user ratings, reviews and comments on the product page. Not only do they build brand trust and loyalty, they increase conversions as well.
Including the product price, availability and estimated delivery time.
Having a clear path to select and add products to the shopping cart with straightforward navigation buttons like "Add to bag" or "Put on my wish list."
Create a fluid, simple and safe buying experience on your ecommerce website
It's important to convey trust and credibility on your ecommerce website — and smart user experience design can help you achieve it. While displaying a security seal or trustmark is important, you'll also want to showcase strong customer service by including your contact information clearly on your website. This means including a phone number as well as access to online assistance. Adding your address to your website is also helpful, as users will be more apt to trust a website when they see its physical location listed.
Smart UX design can build consumer trust.
When it comes to ushering your users fluidly through the checkout experience, again use navigation buttons like "View payment options" versus a vague "Submit" for moving them through the payment step. Navigational buttons can help make make it clear what actions you want your users to take.
Many users are deterred by lengthy account registration forms and will abandon their shopping cart if required to complete them.
Reducing shopping cart abandonment has been linked to increased conversions, so you don't want to lose your users here.
To avoid shopping cart abandonment, add a "guest" checkout option or make the registration form very short, requesting only essential information like email address, name, mailing address and billing information.
The KRAVE Jerky checkout example below does this well.
Another great way to speed up the checkout process is with the use of checkout plugins. Amplify Plugins has created a plugin called WooCommerce Quick Checkout that allows users to checkout in one single tap from a product page with a Buy Now button!
Finally, provide information about returns, refunds and warranties, where applicable, for transparency and to showcase your commitment to good customer service.
If created with good user design in mind, the checkout process can be a great opportunity to build brand trust with users, which is linked to higher conversions and revenue.
---
Originally posted on the Garage.