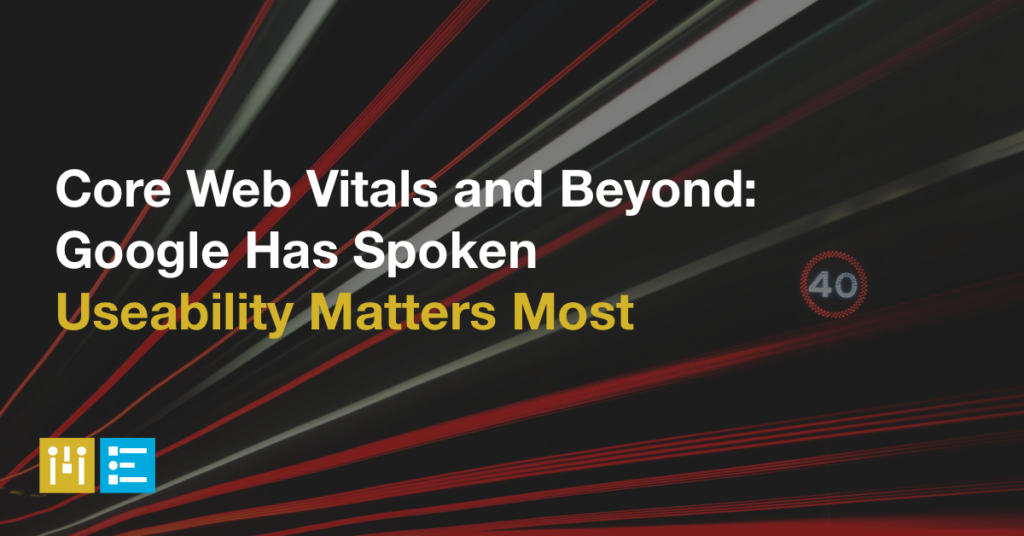 Core Web Vitals and Beyond: Google Has Spoken – Useability Matters Most
We've written extensively about what is Google Core Web Vitals, and in this article, we'll take a deeper look but also look at some important things to understand about it and go beyond the basics. Google is always changing the game with its algorithm on what is most important and what will be given the most weight. Right now, the most weight is on usability – and it won't be the last time Google makes this a priority in an algorithm update. This will likely continue to be the theme throughout 2021 to algorithm updates.
Regarding Core Web Vitals, think of it as the new standard scorecard with Google for ranking your website. Yes, it's that important! And, as we mentioned, it's focused on useability.
In November 2020, Google added these three new page experience signals that comprise the Core Web Vitals:
Largest Contentful Paint (LCP)
First Input Delay (FID)
Cumulative Layout Shift (CLS)
This past June (2021), Google implemented these factors into Google's SERP ranking algorithm which are expected to be complete in roll-out by August 2021. This may be why if you've started to notice a change in your site's traffic and/or keyword ranking around June, Core Web Vitals may have adversely (or positively) impacted you. It all depends on how well your site aligned with Google's expectations across the three factors – again, all focused on useability, or the user experience (UX).
We've written extensively here about the three primary factors of Core Web Vitals, but let's recap briefly:
Largest Contentful Paint (LCP) – All about load time, measuring the amount of time it takes for the largest visible image or text block on the page to load.
First Input Delay (FID) – All about interactivity, measuring the time from when a user first interacts with the site to when the browser responds.
Cumulative Layout Shift (CLS) – Visual stability, scoring and measuring how much page content and elements shift while the site is rendering.
As mentioned, these three factors are about useability. The Core Web Vitals is the first time Google has created a score to measure factors impacting useability. It's also important to keep in mind that Core Web Vitals is on the technical side of useability versus the marketing or merchandising side. Core Web Vitals is ultimately a "useability score" of a website that Google is providing. What it comes down to is this:
What improves useability improves the website both for users (of course!), but also search engines, notably Google.
Additional Factors to Consider
We have a lot of ecommerce store owners come to us with concerns such as:
"Our traffic is slowing down."
"Our site is not performing as well as it used to."
"Our site is slow!"
What they are looking for, but may not always know it in technical speak, is an audit of their website to determine what are the technical factors tied to Core Web Vitals are that are causing the issues. Often once we "go under the hood" of an ecommerce site, we'll find issues that need addressed beyond Core Web Vitals. It's important to leverage other tools when conducting an audit such as an SEO keyword tool like Moz, Ahrefs or SEMrush, of course, Google's own suite of tools:
Page Speed Insight – Diagnose lab and field issues on mobile and desktop pages
Google Search Console: Allows for identification of how each page ranks and the groups of pages that need optimization.
Chrome UX Report: Get customized reports on your website's performance.
Chrome Dev Tools + Lighthouse: Tests and measures page updates and optimizations locally in a lab setting.
Web Vitals Extension: Measures Core Web Vitals data on a website in real time on Google Chrome.
In the descriptions above, we use the terms "field" and "lab" which in Google speak mean:
Field data – gathered from real users through the Chrome User Experience Report (CrUX).
Lab data – gathered within a controlled environment without any involvement from real users.
Digging into Lighthouse a bit further, which is a tool we really like and find valuable, two additional factors measured that we take a close look at include
Time to Interactive (TTI) – Measures how quickly the interactive elements of the site are fully available and functional.
Total Blocking Time (TBT) – Total time before browser starts to render. If slow, we need to look at if the browser is being blocked or are there too many supporting resources being called from other servers.
We've talked about a lot of factors and metrics that impact the technical side of useability. We hope this article has provided you with an understanding of the complexity in maintaining a site that is useable in the eyes of Google. It's important to note that it's not a one and done. Google is always changing the factors that matter most. At the time of this article's publication, this was how things weighed out with Google, but the weighting could be different tomorrow!
We always start with Core Web Vitals, but there are other factors to look at. Our process at Mode Effect, a full-service ecommerce consulting, development, and management agency, for engaging with a new customer breaks down like this:
Asset Audit: Are the right tracking tools in place? If not, we work with our clients to set these up and then gain access to them.
Full audit and recommendations report as well as prioritization of tasks.
Implementation of recommendations for optimization and alignment with Core Web Vitals.
One final important thing to note! We get asked a lot about plugins for Core Web Vitals. Yes, they exist, but in our experience, they almost always never work and break a site in one more ways than one. We love a good plugin that solves a problem, but when it comes to ones for Core Web Vitals, just say "no."
As an ecommerce business, you can't afford to ignore Core Web Vitals. While it's not the only metric to be mindful of when it comes to your website presence, it is a very big one not to disregard. Mode Effect has extensive experience optimizing ecommerce websites for Core Web Vitals metrics. And, even better, we often uncover other areas for optimization in our discovery process. We've helped many other store owners like you tackle Google and get optimized for Core Web Vitals and beyond! Reach out to us when you're ready — we're here to help!
No ready to work with us just yet? No problem, sign up below to receive our monthly newsletter where we'll provide you with valuable tips and strategies.
---
Is this enough to make your head spin? At Mode, we're experts at improving Core Web Vitals for your website. If you're looking for help and want to skip the download…