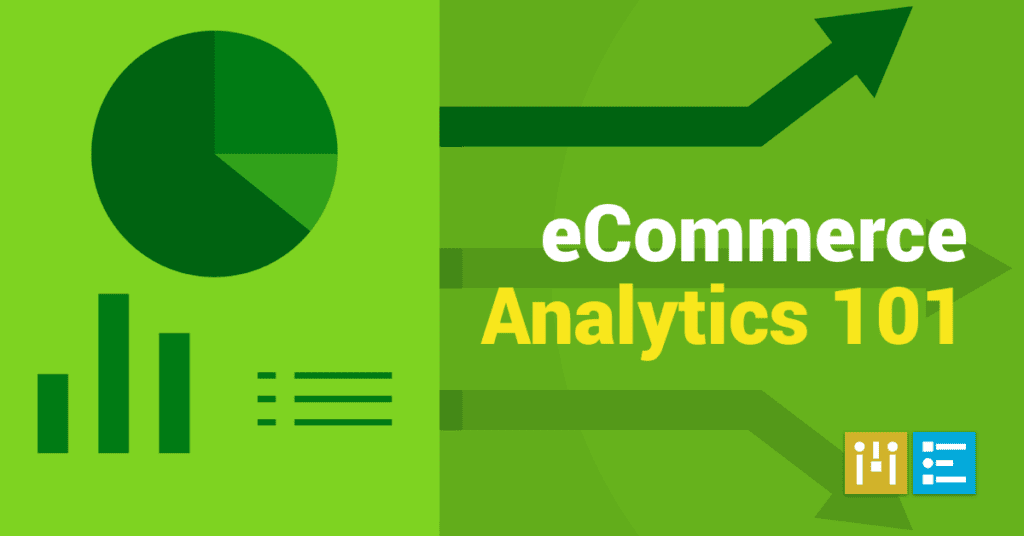 Like any business, e-commerce stores will be most successful when proprietors take time to analyze what's working and what isn't working to boost sales and maintain a satisfied customer base.
Obviously, ecommerce site owners don't have insights they can use in brick and mortar stores, such as greeting customers and making eye contact, reading their body language, making small chat. Tasks like collecting and analyzing customer data are particularly important for ecommerce sites.
If you're in the process of launching an ecommerce store, you're in an excellent position to maximize customer insights right from the start through ecommerce analytics. If your site is already up and you realize you haven't done too much analytics, don't worry: it's never too late to start collecting and analyzing data. Plus, you probably have some insights into your customers' shopping behavior.
E-Commerce Analytics Begin With Documenting Customer Behavior
Ecommerce analytics make use of every site visit and used to identify patterns and opportunities to close a sale.
As I've written in the past, there are four main stages customers go through as they make purchasing decisions:
An awareness about or discovery that there is a problem or discovering an opportunity for improvement

Conducting research into the problem or opportunity and examining potential solutions

Making a decision about whether to purchase a particular solution

Taking action by purchasing a solution (a service or product)—hopefully yours!
As a seller, you should be collecting data on each stage. The stages make up the heart of ecommerce analytics and your overall digital strategy.
For example, a customer could discover your website during the research stage before deciding on a purchase. That's why it's important to provide information about your products beyond a brief description by blogging, advertising, and featuring it on social media. These are all are resources for customers to find.
And while shopping cart abandonment is probably the most distressing analytic you'll follow, examining the behavior behind it can really help you lower it. I discussed the top three reasons behind this, which are not always negative, what information you can glean from this and what you can do about it to bring those shoppers back and turn them into purchasers.
What Data Should Be Collected?
Ecommerce businesses and brick and mortar stores collect similar data to help them better understand their customers and why they choose to shop at their businesses:
How many people shop here

Who shops here/demographics

Popular shopping days and times

What are people buying

How much are they spending

How did they find our shop/ecommerce site
In the ecommerce world, much of this information is automatically captured with standard website tools. There's no need to rely on memory for things like a customer's name and what time he or she came to the store. It's all there in software that performs functions like product ordering, checkout, shopping carts, wish lists and coupons to name a few.
Google Analytics Provides A Snapshot of Overall Site Performance
Google Analytics is one tool that every website—ecommerce or otherwise—should use. It gives a bird's eye overview of website activity. At the minimum, it collects some data on everyone who comes to your site, regardless of whether or not they purchase something. It's free (all you have to do is establish a free Gmail account) and integrates with almost every kind of web software out there.
Here's a sample of what Google Analytics collects, at a minimum:
Number of website visitors by day, week, months, and years

Number of page views

Average time spent viewing pages

What pages were viewed most often

Where visitors came from (search query, clicked on an ad, specific social media site, etc.)

Download speed

Media used to visit the website
For visitors who let Google know their age, gender, location, and other demographic data, these data will be duly recorded as well. Reading a Google Analytics report can provide an amazing wealth of information that's difficult to collect in a brick and mortar store.
The Google Analytics tool for WooCommerce is a free plugin collects these data and more, such as items left in a shopping cart, transaction history and traffic patterns.
Channeling Data From Ecommerce Analytics To Gain Customer Insights
Writing in the Kissmetrics Blog, ecommerce "evangelist" Tom Robertshaw explains a great method to organize and understand what all these data points are telling us: put them through a timeline funnel that explains the thought process behind each purpose, step by step.
Let's say you paid for an ad on a social media site. (As Robertshaw urges, it's wise to tag each sales campaign by adding a UTM, a unique code that identifies clicks to the page from specific sources.)
Here's how data from that ad will funnel down:
Number of people who clicked on the ad and land on the linked web page; most ecommerce ads are for specific products

Visits to other pages

Specific items added to the shopping cart

Cart abandonment rates, identified in totals and by individual, anonymous shoppers

Specific data on purchases, including information that identifies specific customers
At each step, the number of people who remain shrinks. By collecting information about visitors at each step of the process, site owners can gain insights into their behavior.
It's possible to collect data on visitors even if they don't make an initial purchase. If they sign up for your email newsletter, for example, email software like MailChimp provides insights into the number of emails opened and data on website visits and purchases resulting from individual email campaigns.
Robertshaw's email funnel is similar to a social media funnel:
An email is sent to customers who have signed up for the service or otherwise have agreed to be contacted by your business

X

number will open the email

X

will be identified as regular email readers

X number will click on the email to link to certain, UTM-coded pages

X

will be past customers

X

will be regular visitors to the site via email

X

will add a product to a shopping cart

X

will make a purchase

X

will buy immediately

X

will buy at a later time
All these Xs provide a lot of information about individual, identified buyers–something Google Analytics doesn't do. Further restrictions for citizens in European Union nations go into effect in May 2018.
Productivity Tools Gather Ecommerce Analytics
One great thing about gathering ecommerce analytics is that software that performs discrete functions also collect data on these functions.
For example, the shipping tool you use will tell you what products are selling in certain geographic areas and help you get insights about customers who have blocked this information from Google. It will also record ordering dates, providing additional insight into seasonal buying patterns.
Coupons are particularly useful tools because they can be coded for specific campaigns and used to measure their effectiveness. Once used, a coupon becomes part of a customer's history with an ecommerce store, which helps with targeted sales and marketing efforts.
Wishlist tools that allow customers to save products they're interested, ostensibly for later purchase. These are data goldmines that can be examined for insights into product popularity, trends and help with decision making about future sales and special offers.
Even abandoned carts provide insights. There are ways to turn even these carts into opportunities to make a sale. Look for patterns:
Do abandoned carts belong to customers who make few or no purchases? What can be done to close the deal?

Or is abandonment associated with cost? Did customers buy an alternative, less expensive product?
Ecommerce Dashboards Collect and Organize Data For You!
If all this sounds overwhelming, don't panic. Tools like dashboards take data and organize them into dashboards that visually display how an ecommerce site is functioning. They present data using pie charts, bar charts, line charts, or graphs, sometimes using two or more in one dashboard.
They really have done a great service to demystify analytics and present data in ways people who didn't major in statistics (which is, of course, most of us, right!) can understand with a little training.
Ecommerce dashboards organize general and specific, or segmented, data that displays what's going on behind each function, such as checkout functions, which typically include payment, shipping, and perhaps inventory management.
As we discussed above, Google Analytics provides very useful demographic and site visit data. It can also be configured to capture useful ecommerce transaction and item data:  
Transaction data includes items such as revenue, shipping and tax.

Item data such as SKU, price, and category.

Each piece is linked to a unique transaction ID created at the point of sale.
Even better, Google makes tools for specific ecommerce sites, including a free plugin for WooCommerce. It can also be imported into just about any website software.
Interpreting Ecommerce Dashboard Data
The main reason you're making these efforts to collect and analyze your ecommerce data is because your goal, of course, is to improve sales and grow your business. But relatively few ecommerce businesses, though, have staff capabilities to fully understand how the data can be used to drive improvements such as website redesign.
There are firms out there that specialize in creating ecommerce dashboards and assisting customers with interpreting data to use to chart future actions. Kissmetrics is probably the best-known of the analytics firms out there but it can be expensive for small and even medium-sized e-commerce businesses. 
Without question, understanding analytics is a skill and can be developed with training. I honestly feel it's a must-have skill for serious ecommerce business owners. The benefit of taking even basic analytics training is that you'll strengthen your understanding of what data say, collectively and individually. It's as essential as understanding how the products you sell should work, their components or ingredients, lifespan and so on.
Lynda.com is one site that provides highly-rated training opportunities taken on your time. Lynda offers a course for beginners, intermediate and advanced in different fields.
More advanced topics like A/B testing, which allows you to compare different approaches for website page design, are also taught online. Udacity is the best-known place to learn this skill using Google Analytics.
Strengthening Content and SEO Bring Instant Improvements!
One area where you can probably spot difficulties right away is to examine page landing statistics. Look at the pages that have the most traffic and time spent on the page and compare them to those with the least amount of either or both.
I'll bet the kids' college funds that the weakest pages have little content and lack graphics.
If you hold the opinion that the weak pages do address items that should interest your customers and potential customers, work on those pages. Give them strong, optimized content that will help Google and other search engines recognize their value.
One tool I strongly recommend is Yoast, a WordPress plugin that focuses on search engine optimization (SEO). The free version is a tremendous writing tool:
It ensures there is enough content to make a difference to search engines

The free versions allow the writer to identify one keyboard (the paid premium version allows for up to five) and ensures it's properly placed

It provides an opportunity to fine-tune snippets that appear on search engines as brief descriptions

It reminds writers to add image captions and alt content, something Google seems to value

The Yoast plugin for WooCommerce provides a little extra "glue":

Improves social media sharing

Fine-tunes sitemaps to get rid of unnecessary items

Supports breadcrumbs
Search engines, in general, want writers to stop over-thinking keywords but the ecommerce world is a bit different. Here, you do want keywords to rank, or at least be competitive, in searches. So it's a good idea to define baseline SEO and look for changes in those dashboards.
Here are a few ways to set this baseline, using information from your Google Analytics dashboard:
Determine where your pages rank for keywords. You don't have to actually have an active Adwords campaign to do this.

Determine the number of organic (unpaid) search traffic.

Look for unique search terms from both that are driving traffic.

Check inbound links (links to your website from other sites)

Compare these over time to conversion rates or whatever metric you decide is your goal (it's probably making a purchase!)
This article from HubSpot, a marketing automation tool, provides some excellent insight into establishing an SEO baseline and improving it.  
Make Friends With Your Ecommerce Analytics!
I know the first time I dove into ecommerce analytics, it was a little overwhelming.
But the further I got into it, the more I realized that these pieces of data provide more insights into business operations than you'd probably see in a brick and mortar store. I mean, you can't follow your customers' footsteps when they're in your shop—you'd creep them out!—but data generated from online visits are there to scrutinize and analyze.
Here's the best place to start: launch your Google Analytics page today and take that first step to see how the Internet sees your ecommerce site.