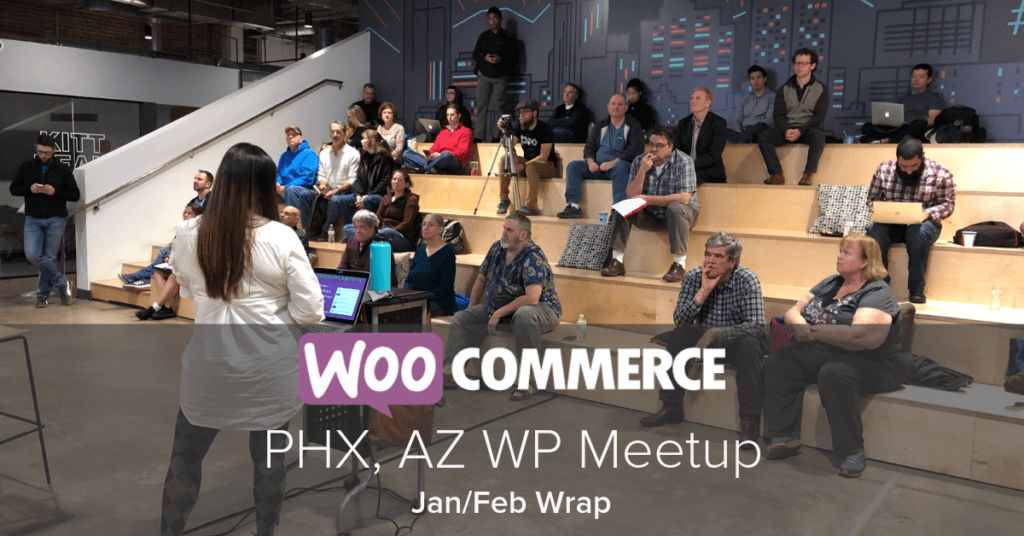 WooCommerce WPAZ Meetup: January/February Wrap
After skipping December because almost our entire team was out of town due to WordCamp US, we came in strong for 2019 with two successful meetups!
The first being January 2nd! I was concerned that it'd be too soon into the new year as it was only day 2 but I was pleasantly surprised! It was a bit stressful planning all of it around Christmas but it was worth it. In order to lighten the prep load for any potential speaker we went with a WooCommerce Q&A Panel. We had four awesome panelists:
Once again I was surprised by the turnout. We had over 40 peeps attend and fully engage with the panelists! Timing went well with the Q&A lasting until the end. Questions were quite diverse and full range from performance, to hosting, to checkout processes. Afterward we got a ton of good feedback from the attendees and had a wonderful time getting to know some new peeps! It was wonderful!
The second meetup commenced February 6th at Galvanize as usual.
We had the illustrious Zach Stepek video-in his talk on speeding up your e-commerce site titled eCommerce Speed Demon (The Pursuit of 800 Milliseconds) . Zach easily filled the entire time and fully captivated the audience with his wealth of knowledge. We had high praises for his talk and much appreciation for this vertical Meetup!
Quick shoutout to Cody for running the show that night as I had a civil service meeting and came late!
These meetups have been truly a blast to organize and I love that the community finds value. We hope to see you out for our WooCommerce Meetup next month! We've got Parker Mathewson, Founder of The Rite Sites, guest speaking on The Problems and Opportunities of Migrating to WooCommerce. RSVP here!
Our WooCommerce Meetup just keeps rollin' out the content and it's our pleasure to keep it comin'!