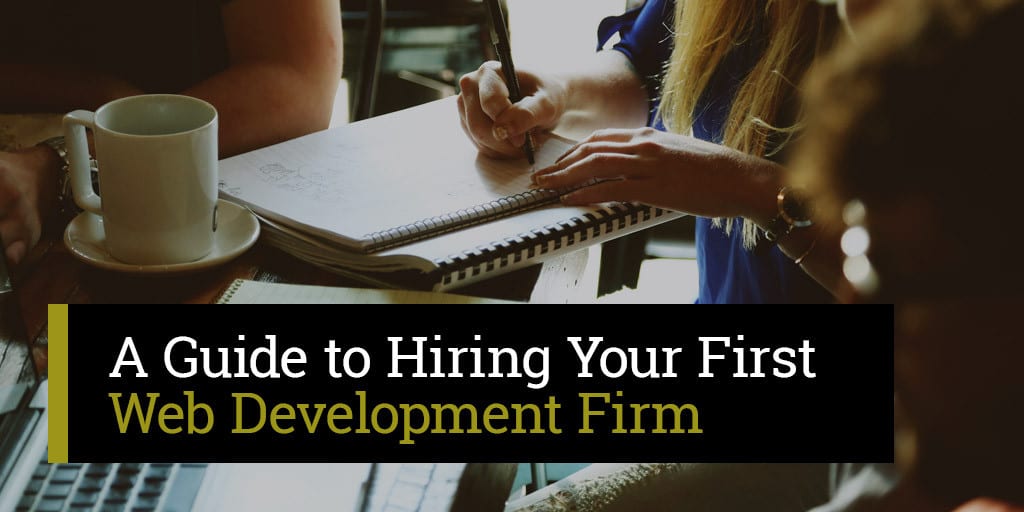 A Guide to Hiring Your First Web Development Firm
You've finally done it.
You've gotten some traction with customers, or at least have a healthy stream of visitors interested in your offering. You've moved past the conceptualization stage and now have a product that you know is viable. Congratulations: you've accomplished more than lots of people who only dream about running a successful business ever will.
But there's a problem: your website.
Maybe the design is outdated. Maybe it's no longer consistent with your company messaging. Or maybe it just can't handle the traffic you're getting now, an amount that's exponentially more than you were receiving when the site was first created.
And what about future growth? Will your site still be viable three months down the road? Six months? A year?
It's time for you to hire a serious web development company. A small web agency gives you the best of both worlds: you get the personal care and attention that you would from a freelancer or individual, but you also receive the resources and experience you get from a team. And with a smaller agency, you don't have to worry about forking over a huge retainer to pay for a fancy office space.
But you still have to find one that fits your needs and your communication style. And while that's not always easy, with the right approach, it doesn't have to be difficult.
What exactly should you ask prospective web design companies? This resource will get you on the right track:
Grab your copy now
Start with you
It may seem counterproductive, but… [tweetthis]"Until you understand your needs, you'll have trouble finding the right web design agency."[/tweetthis]
"Yeah yeah, I know what I want, that's no big deal," you might say. But can you outline exactly what you need, where you need it, and an ideal timeframe for it? No? Then it's back to the drawing board.
You must understand and be able to communicate your exact requirements before you send a single email to a prospective agency. Ideally, you'll be able to write them down in a coherent list of thoughts and requests. If there's an area where you aren't sure exactly what you want, that's okay. But you need to recognize that and know how to explain the things you are confused about to potential agencies in a clear and concise way. This saves everyone a lot of hassle and will reduce the amount of time it takes you to find the right web development firm.
Go Where You Want to Be
Once you know your needs and have defined them properly, your next step is to find a site that exemplifies what you want.
Are you looking for a silky-smooth eCommerce interface that people can breeze through on their way to buy your products? Do you want a page heavy on the visuals to excite visitors about your startup's upcoming product? Whatever the case may be, find an example or two of some pages that do it really well.
From there, you have a couple options. You can closely examine the site and see if there is any information about the web developer that created it. If you really like the design, you can send a polite email asking the company who made it. If none of these options pan out, you can at least keep the site bookmarked as an example to show other prospective agencies. This helps give them a concrete understanding of what you want: even if you don't do a great job at explaining your needs, sometimes a good example is all an agency requires.
Look for evidence that they are RE-design Savvy
Many smaller web design shops have a very specific focus. For some, that focus is building new sites from scratch. Some smaller development companies even focus on a specific theme or style of new website. Obviously, you aren't doing this – you have a site in place and it has already had a measure of success, even if it hasn't done much more than just getting your name out there.
What you need to do is keep an eye out for shops that can take an existing website and make it better, based on customer input. The skill of taking nothing but an idea or a vision in someone's head and making it into an a functioning website is admirable, but that's not what you're looking for. You want to see proven results of a website redesign, not just finished sites from scratch. Otherwise, you run the risk of hiring a company that can't get away from doing things the way they've always done it – and that's bad news.
Ask lots of questions
Any web design company that seems annoyed by you asking questions or doesn't take the time to address them thoroughly is not a company you want to work with. Ideally, there should be lots of questions exchanged by both parties: you should be asking questions of them to ensure that they can do what you need, and they should be asking questions of you to ensure they understand the scope and project requirements.
They should have a good sense of what you need and a solid grasp on the field, but don't automatically cross them off your list just because they can't answer one out of ten questions you ask them. In fact, you should pay just as much attention to how they answer your questions as you do to what they say. Are they answering it in a clear manner that is respectful yet still breaks it down into terms you can understand? How long does it take them to respond? How in-depth do they go into their answers?
In an article on hiring a web developer at Entrepreneur, Nelly Yusupova makes a great point about asking questions. She suggests focusing on asking open-ended questions and listening to how well a potential agency explains technical terms and communicates their passion for their work. An encyclopedic knowledge of PHP terms and a blue-chip list of previous clients is nice, but it's more important that they can communicate and explain themselves effectively.
Make it a partnership
It doesn't matter if you are getting a website redesigned, working with a recruiting firm, or getting a new roof on your house: any good contractor isn't a subservient slave that you can boss around. They are a partner in a business trade, exchanging value with you on equal footing – you provide the money and they provide their expertise and skills.
But you have to take it one step further – a web design agency with a client that doesn't communicate well isn't going to do as good of a job as they would if you told them specifically what you wanted and helped them reach that goal. In fact, they will do a dramatically poorer job if they cannot get the information they need from you.
Even if you hire a group of coding wizards who would put Neo from The Matrix to shame, if they don't know what you want they won't be able to live up to their full potential. You need to recognize that you have plenty of responsibility in this project as well, and you have to take ownership of it.
You shouldn't rush into a serious commitment like hiring a web development agency, but you also shouldn't agonize about the process forever. Understand your needs, find a few good examples, pay attention to how they communicate, and before long you'll have a company that can create a stunning website to take your business to the next level.
Get the bonus content: Questions to Ask When Hiring a Web Development Company