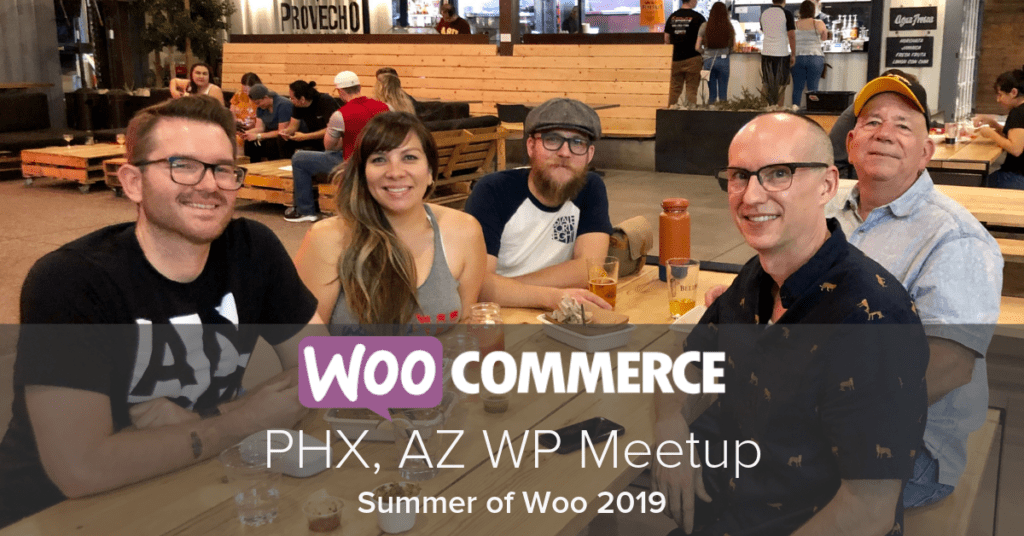 Summer of Woo: Wrap up of our May, June, & July WooCommerce Meetups
There's been a lot of excitement in our WooCommerce Phoenix community over the past few months. It's been great to see our community thrive and find it's bearings. I always feel so proud to say I'm from WordPress Phoenix because of our deeply engaged community. ☺️
Three events have happened since we last checked in. Let's check them out.
May
Our WooCommerce meetup in May brought out another first-timer to speak!
Amanda's talk was on The Importance of Product Descriptions. She educated us on why it important to be smart and intentional with production descriptions. Here are some notes:
Product descriptions are key
Buyers DO read descriptions
Have a process in place for writing descriptions
Buyers tend to
Use pics and videos to tell the product story – custom pic
Search engines crawl descriptions

1. Write to your buyer
– use your buyer's avatar – define that avatar
2. Focus on product benefits
– write the feature, then the benefits of the feature
3. Use a layout buyers can scan quickly
– web pager users like to scan
– follow an F pattern
– bullets
– white space
– bold text
– peeps only read/retain about 16% of the info on a page
4. Include the details
– buyers are looking for reasons NOT to buy
– paint the picture – give the project a compelling story
– stories sell – people buy stories
– the story creates the connection
– include dimensions of the product
5. Create an enticing introduction
– make them want it NOW
6. Make the description INTERESTING
– tell a story about the item
– how was it made?
– use emojis
7. Use effective keywords for SEO
– long tail keywords
– put keywords in metadata
Amanda did not hesitate to accept my invitation for her to speak and she wowed us with this topic. So many of us put product descriptions off thinking there's not much to it. Boy did she make us second guess those thoughts. We're so appreciative she came out!
June
In June we had none other than the Kathy Zant of Wordfence school us all on–you guessed it. Security. Specifically on Securing your WooCommerce Installation.
Securing WordPress is important, and when you add commerce into the equation, it becomes critical. PCI-DSS, payment card industry data security standards, requires that site owners adhere to standards if they accept credit card payments online. Even if you're only accepting PayPal payments, awareness of PCI-DSS standards is an important part of any commerce solution and some banks may require you to self certify PCI-DSS compliance.

What are some of these key requirements and how do you ensure your site stays safe? How secure is WooCommerce and WordPress? What are critical steps to ensure your site stays safe when selling goods and services online?
We were so blessed to have Kathy come out and share her extensive knowledge on site security. She's grown to be known player in our global WordPress community over the past year. We're so happy for her and, of course, take credit that she's from Phoenix! Kathy was kind enough to share her slides with us. Check them out here.
July
For those of you who live in Phoenix or have lived through summer here, you know that we become a ghost town during our summer months. The snowbirds are away. Students are gone. We make excuses to leave town and escape the very dry but high heat. So because of these reasons, we decided to have a summer social in lieu of our usual presenter-styled meetup.
I'm glad we did this! It was nice to just get to know a few peeps and the weather was surprisingly tame! If you haven't been to The Churchill yet, then I highly suggest you get yourself over there. And we took to opportunity to announce some big news to our community.
We are official!
Our WooCommerce Meetup is now a chaptered WooCommerce Meetup. We will meet at the same time and in the same place. We will provide the same Woo & e-commerce content and bring as many relevant speakers out as we can. But we are now happy to proclaim that we've joined this 60-group community and we are so glad to continue to take steps that make our overall WordPress community shine! Don't forget to join the new WooCommerce Phoenix group!
We'll see you all in a few weeks at our first official WooCommerce meetup! We're bringing you Ian West of Morrison Consulting who will present on using Active Campaign for your e-commerce mailing lists. Can't wait to see you all there!