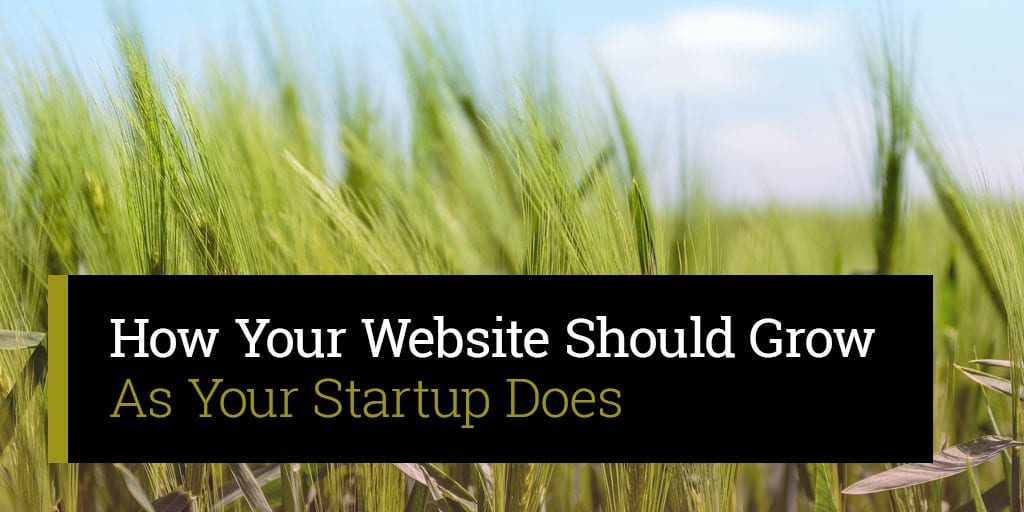 How Your WordPress Website Should Grow As Your Startup Does
There are a variety of opinions when it comes to defining the phases involved in launching a successful startup. Up to six phases are typical, but if you take the time to distill the steps down to their most basic form—and the ones most relevant to your website—you're left with four core areas of focus:
The Discovery Phase – Researching your idea.
Testing & Validation – Proving that your idea holds value and landing your first customers.
Improving Efficiency – Getting better at what you do.
Scaling Your Startup – Time to grow!
With such distinct phases, it goes without saying that your website should be adapting to the unique requirements and opportunities presented at each stage.
And I already know what you're thinking, "What about the funding stage?"
Although not every startup decides to raise capital, don't worry, we haven't forgotten the important role that your website can play when it comes to financing. We'll certainly include that in the discussion.
In this post, we're going to take a closer look at how your website might change through the initial stages of your startup and why each change is so essential. Although some of the adjustments are subtle, they are no less important.
Learn the six must have elements of a great startup website with this free resource.
The Discovery Phase
The discovery phase is one in which there are a lot of unknowns. You're not sure about the quality of your idea—you might be solving a legitimate problem for your customers, and then again you might not. Until you've done some research and talked to potential customers, you're probably not too confident about how far this idea might progress. On top of all these unanswered questions, your budget is limited.
This is a stage when it makes sense to avoid burning through a lot of capital on website development. While no respectable startup launches their business on a free platform (it just doesn't demonstrate a lot a faith in your idea), it makes sense to focus on the bare necessities—things like a domain, hosting, and a landing page are a good place to start.
This is also a stage when you'll want to be getting your message in front of as many people as possible. You might be using PPC to test different landing pages—with each one offering a slight variation of your message. You might also be testing a customer's willingness to click "buy" in an attempt to validate your offer.
Despite the relative uncertainties and the minimal website requirements that are present at this stage of your startup, building a relationship and starting to work with a developer can pay huge dividends down the road. Speed of execution can play a critical role in the early stages of a startup, and having your developer on board—even in a minor capacity—can allow you to move into the next phase with greater efficiency.
Testing & Validation
While there are still plenty of uncertainties in the air, by the time you get to the testing and validation phase, you've gone from, "I wonder if this idea might make a good business?" to "I think we might be onto something here." And, this is the stage where things can change very quickly—especially when you start to get traction.
If you brought a development agency into the process early in the discovery phase, you'll be thanking your lucky stars right about now. If not, you might find yourself scrambling to bring one up to speed.
[tweetthis]Hiring a developer for your startup website will help to keep costs lower in the long run.[/tweetthis]
During the testing and validation phase, you'll still be experimenting with your idea, your value proposition, and your price points, but you'll also find yourself bringing your first customers on board. This means it's becoming more important to present the right image. It's time to ramp up your branding, and make sure your design, your product/service, and your messaging are in alignment with each other.
This is also the time when it's becoming increasingly important to think about the image you want to present not only to customers but also potential investors. It's easier to make sure your ducks are in order now rather than later.
Depending on your business, this could entail adding more information about your company to your website—you've probably started building a team, even if it's still small, and you probably have a physical office location by now. Your "idea" is rapidly transforming into a legitimate business, and your website should reflect that.
From a technical standpoint, are you ready to begin developing some basic e-commerce capabilities built into your site, or is a beta version of your web application something that should be in the works?
Take a look at the original Uber homepage above from their launch in 2011. Everything about the website was indicative of a business in the discovery phase, including the signup process which was functional at best. If you spend some time looking around their current website, you'll see how refined their experience has become.
Improving Efficiency
At this stage of the process, you'll have moved past your first few customers. You're busy enough that it's time to begin seeking out ways to improve efficiency.
Improving efficiency means not only looking at your internal processes but also looking for ways to improve your website or application—especially if you're a technology-based startup.
Your value proposition and messaging are complete, and it's time to look at things like user experience, conversion optimization, and making it as easy as possible for customers to come on board. Because your developer was involved early in the startup process, you are able to make changes and improve efficiency with relatively little friction.
With the scaling phase right around the corner, this is the time when it's critical that you're comfortable putting your website in front of potential investors and customers alike.
Scaling Your Startup
By now, there are relatively few questions about the viability of your idea—your website should convey your level of confidence. But you're not out of the woods yet. Not only might you be facing the challenge of attracting outside investors, but it's also time to begin scaling up your business.
More than any other phase, this is the one when your website is most likely to be put to the test. Having the right team in place can quite literally be the difference between success and failure, especially if your business scales quickly. Your website likely needs to be able to accommodate an increase in traffic, an increase in customer orders, and a jump in customers inquiries.
You're probably familiar with the importance of making sure your home is built on a strong foundation, right? The same thing applies to your website. All the planning, small changes, and improvements in efficiency can be brought into play when it's time to scale. And although your design, messaging, and content might not change that much, it's likely that the infrastructure will.
Learn the 6 must have elements of a great startup website with this free resource.
Final Thoughts
You've already been told about how websites are no longer a "set it and forget it" proposition. Just like your startup can rapidly move through different phases, so too can your website.
What begins as simple domain, landing page, and value proposition can quickly develop into a full-fledged website with an integrated application. The beauty of working with a developer who is familiar with startups is that he or she can guide your website through each critical stage—helping you find the right balance between cost, functionality, and foundation and making sure that you're developing your website in a way that puts your startup on a path to success.