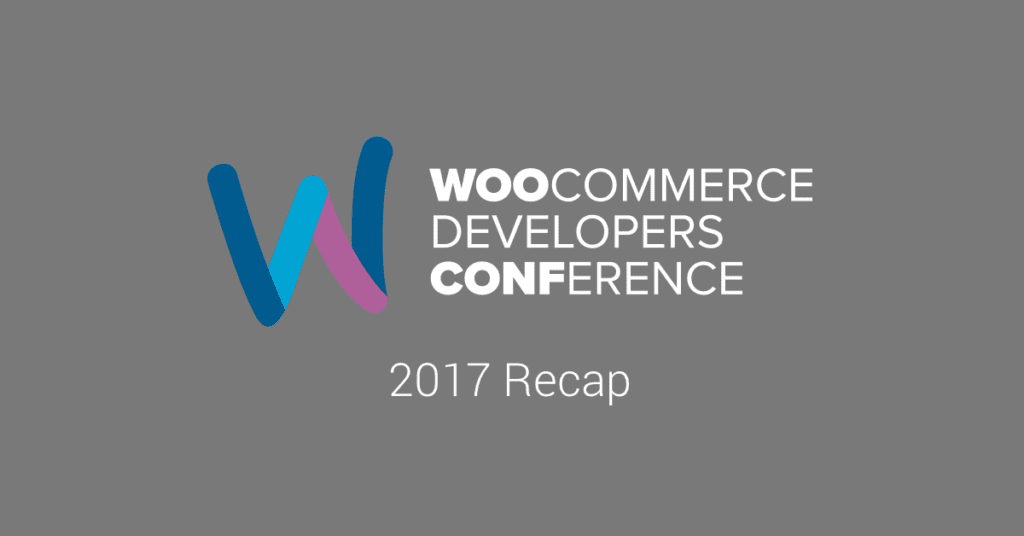 Okay.  Here comes a super brief recap of WooConf!  I just saw the videos went live and wanted to share the two keys I was most excited about at last month's event.
I had an opportunity to attend and speak at the annual conference for WooCommerce.  It's called WooConf.  And let me tell you it was a fantastic opportunity to learn and spend time with the developers responsible for pushing this platform forward.  This year's conference was specifically focused on developers.  In fact, the word developers were in the title.
WooCommerce invited the leading minds in the space to share on the future of the eCommerce platform driving around 30% of the internet's online stores.  There was a lot of great takeaways to help developers serve their customers and in turn, create a more scalable and robust platform for smaller and larger stores alike.  Although a reoccurring topic of the conference was "scale."
One particular concern with WooCommerce from the outside is the criticism on scalability.  Many critics of WordPress and WooCommerce pick lack of scalability as the primary challenge with running an eCommerce store on Woo.  So this was a topic many speakers took on to demonstrate efforts towards creating eCommerce stores that scale.
The future of WooCommerce
Todd Wilkens (the head of WooCommerce) kicked off the conference to share on the upcoming roadmap and immediate future of WooCommerce.  This marks the first time we've had a specific head of WooCommerce come out and take us behind the veil to share where the platform is going. Go ahead and check out the video of his talk below and get excited about what's in store.
Extension Marketplace
Though there were many topics that are exciting for both developers and store owners, one topic, in particular, that's exciting is the launch of the upcoming extension marketplace on the WooCommerce website.  Aviva from Woo gave a presentation on how this will come to be an important place for developers to showcase tools that will help store owners easy buy and implement solutions to improve their eCommerce stores.
Want to check out more of the topics covered?  You can head on over to the WooConf website and find all of the topics covered.