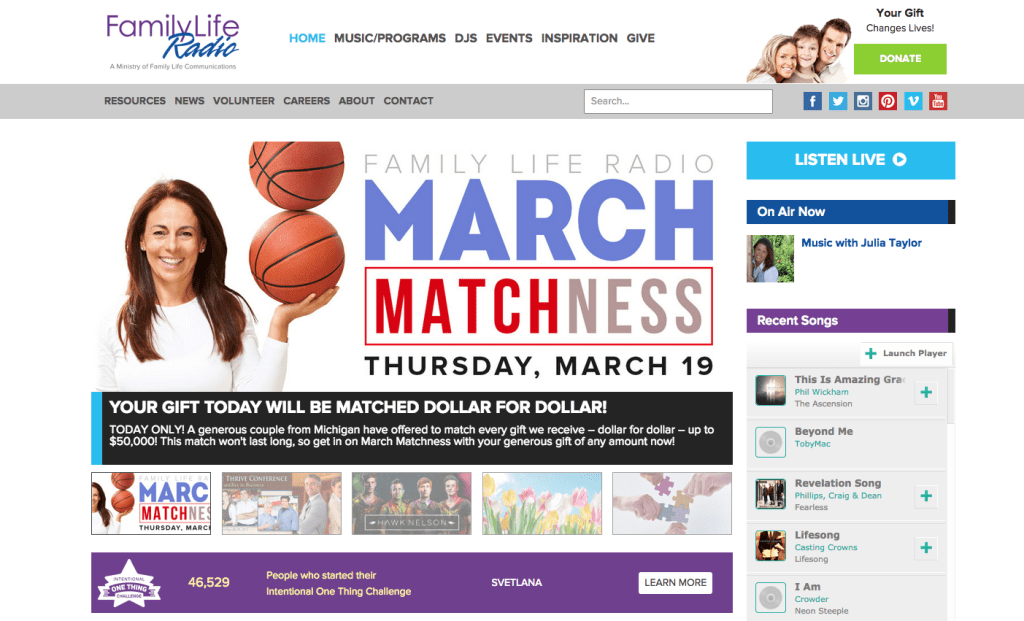 How a non-profit can invest in WordPress to serve their audience.
If you run a non-profit business you know your website is one of your most valuable tools.  If you aren't in expert in website design it can be easy to get bogged down and possibly handcuffed with a stifling CMS or software that limits your website.  As you probably know it's important how well your website is built that allows you to bring value your non-profit business needs in order to reach your audience.  Recently we had the pleasure of working with a Arizona based non-profit Family Life Radio.
Family Life Radio, an evangelical radio station has been in business since 1966 and has been in the business helping people live more intentional lives for Christ.  Realizing the power of an online presence Family Life has invested heavily into their website and has created a way for their audience to contribute online to the success of the non-profit and sustain it's growth.
Migrating to WordPress from a large CMS
For a few years Family Life had been using Ektron (an enterprise CMS solution) to power their website.  While being a powerful content management system (CMS), Ektron does come with it's challenges.  Before long Family Life had discovered WordPress as a more effective solution as a CMS.  It wasn't too long after they were looking for help to successfully migrate their website from Ektron to WordPress.
With the success and the mission of Family Life being what it is, it was important for this non-profit to migrate their website and not lose any traction they've built online over many years.  Family Life began searching for a platform approach to migrating their website from Ektron to WordPress.  They decided on WP Engine as a trusted and proven solution for their platform to run WordPress with.
Since WordPress is widely used (roughly 40% of the web is using WordPress as a CMS) it's easy to assume that setting it up and running it would usually go off without a hitch.  This is for the most part true.  But if you are running a long-standing successful non-profit organization you cannot afford to lose the traction you've worked so hard to build.  It's extremely valuable to find a partner to help successfully migrate your website to WordPress.
Running WordPress as a secure platform
Family Life had decided to work with WP Engine to run their WordPress website with a stable platform.  So they don't have to worry about back-ups or security risks that pertain to many self-hosted WordPress installs.  Since working with WP Engine, Family Life began their search for a company that understood WordPress and had the experience working with non-profit organizations.  Family Life reached out to Mode Effect and we were able to understand their challenges with their CMS (Ektron) at the time and provided the solution and tools they need to run and scale their website to grow their online presence.
If your non-profit runs a website with an enterprise CMS solution you can definitely identify some of the challenges and limitations that your website has to do the things you may want to do quickly or easily.  This can often become a large pain point in your organization and can effective the growth you need to achieve for your non-profit.
Since moving to WordPress Family Life has been able to invest their marketing budget directly into building their website the way they need to by reaching their audience through live-streaming radio shows, providing valuable content that their audience has come to know them for, and provide a resource that they can use as they continue their journey to living more intentional and successful lives.
A win-win situation for both Family Life and their audience since they are now creatively available to publish the content that will truly enrich their users' lives.